Award for Caritas Cambodia for flood relief
The Cambodian government awarded Caritas Cambodia and other members of Caritas Internationalis with a medal for providing aid after heavy floods. These floods affected more than 176,625 families from 14 provinces in the vicinity of rivers Mekong and Tonle Sap at the end of the monsoon season in 2011. The Cambodian Prime Minister Nea Yuok Roth Montreat will give Caritas the medal.
The floods displaced 17,000 families from their homes and destroyed 130,460 houses. In total, it claimed 148 lives. Caritas Cambodia focused firstly on delivering immediate aid, distribution of humanitarian packages, medical aid, temporary shelters and providing safe drinking water and sanitation.
Local farmers whose crops were flooded required immediate aid, as most of their family income relies on crops. Water flooded more than 270,000 hectares of rice fields with seedlings and completely destroyed nearly 61,000 hectares of fields. Over a thousand head of cattle and pigs died. Caritas Cambodia has given rice seeds to more than 7,000 families and vegetable seeds for home growing to 1,500 other families.
Caritas Cambodia also prepared training programs for local farmers and taught them how they can reduce the risk of potential future disasters, to prevent loss of lives and property. The farmers were also learning new agricultural techniques, how to secure their rice fields, how to build dams and how to prepare for a sudden evacuation of their homes. This approach was highly appreciated by the Cambodian government, which urges the relevant ministries to support this training program and to implement it throughout the country.
"We are honored that the Cambodians and Royal Government appreciated our work during the floods and our follow-up programs," says Kim Rattana, director of Caritas Cambodia. "Many members of Caritas Internationalis helped us. Indeed, it is a great day for the Caritas network."
One of the members was also Caritas Czech Republic, which provided financial assistance in the amount of 5000 USD. Thanks to donors and the Caritas CR's Crisis Fund, it managed to help many families that were caught by floods and were expelled from their homes.

Photo: In the fall of 2011, Caritas Cambodia distributed rice and other food to people affected by floods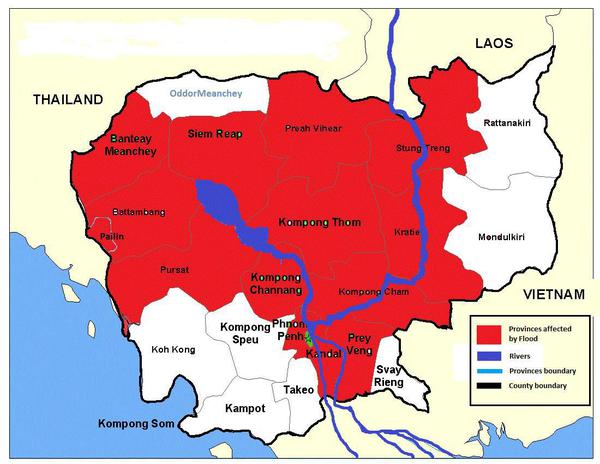 Photo and map: Charita Kambodža