Komar Pikar Foundation's day care centres help disabled children in Cambodia
During her cross-country journey to Cambodia, Veronika Nožinová, the programme manager for Cambodia and the Philippines, visited not only areas where Caritas CR works, but also two day care centres for disabled children in the province of Kampot. They are run by a non‑profit foundation Komar Pikar, which set up another two centres that are also in the capital city Phnom Penhu.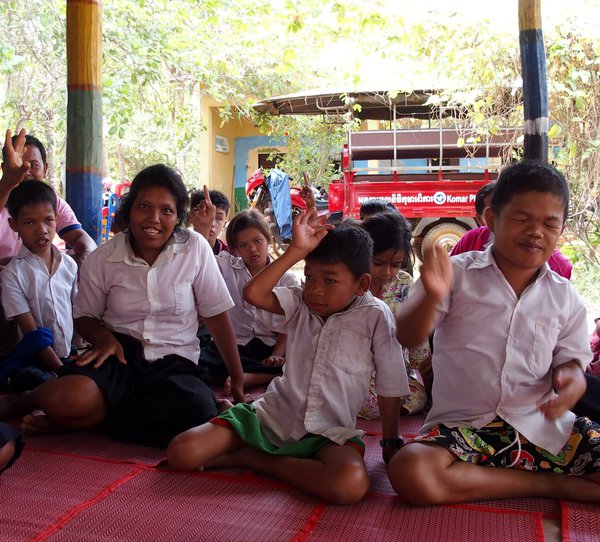 In a small village close to Kampot, the capital of the homonymous province, the day care centre for disabled children provides care to 15 boys and girls. They spend the whole day there, learn basic skills and at least partial self-sufficiency. For example, they learn how to get dressed, eat and go to the toilet on their own or to ask for something they need. Professional social workers work in the centre, who also provide rehabilitation exercises and there are also several volunteers consisting of parents or social work graduates, who come back to the village after finishing their studies. The parents take turns in cooking and the other volunteers take care of the children.
"Nine months ago, this girl could not even sit by herself, nor eat or say that she needs to go to the toilet", said one of the caretakers and pointed at about a ten-year-old girl. "Now she can walk about the room with the help of a go-cart and special braces, she communicates happily and smiles. She can also eat on her own and moreover, she can also wash a plate after herself."
There are more children with the same fate in the centre. Most of them got in the centre in a very neglected state because their parents did not have the money, time or knowledge to take care of them. The families do not have any stable income and many of them live on an average of 1 dollar per day. Some children live with their grandparents because their parents had to leave for work in the city and they come back home rarely. However, disabled children cannot survive without others' help. This applies particularly to girls who have faced sexual violence against them which they cannot defend themselves from and they are neither protected by society, nor by their family.
During the years 2010 – 2012, Caritas CR took care of better access of disabled children to education in the province of Takeo in Cambodia. Furthermore, we trained pedagogues on the methods of inclusive education and from April 2013 until December 2015 we provided social care and inclusive education to children affected by some forms of disability. Currently, we focus on medical care and eyesight care. In the future, the foundation Komar Pikar would like to provide similar services as Caritas CR.
More photographs can be found in a separate gallery.