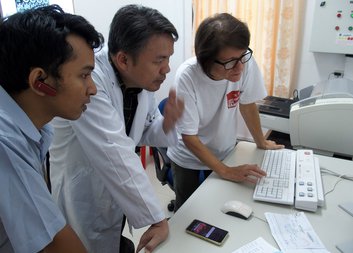 Under supervision of Czech doctor, 84 patients were examined by CT scan in Takeo
In the Cambodian province of Takeo almost 20% of its residents live under the poverty line in hardly accessible areas with insufficient medical care. At the beginning Caritas Czech Republic started supporting ophthalmology here and afterwards it focused also on improving medical care in general.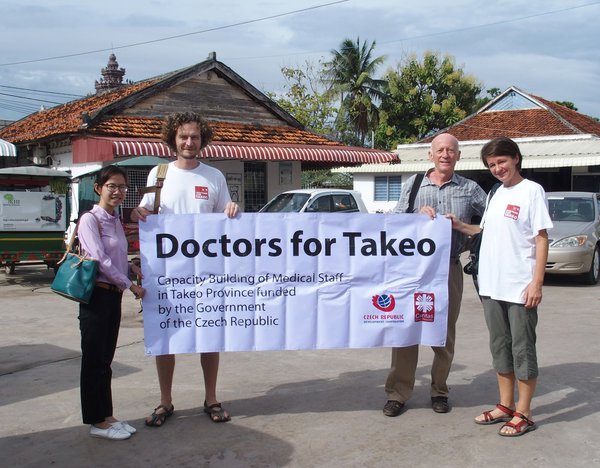 Although Cambodian doctors undergo professional education, medical care in local hospitals still does not reach the desired quality. Therefore, Caritas Czech Republic provides theoretical and practical tuition in several specializations such as paediatric surgery, preventive medicine, gynaecology and obstetrics, prenatal and postnatal care and radiology.
"In developing countries it's necessary to teach the basics and not to expect fast changes. By slow and repeated action we can reach progress, in our eyes very little or even negligible, however in local conditions it's perceived as absolutely fundamental," emphasized doctor Martina Lattová, who led several courses focusing on radiology in Takeo. She also drew attention to the fact that apparent details play an important role for the local doctors: "The doctors in Takeo hospital accepted with great enthusiasm two reference books we donated them. Everybody even paid about 27 dollars for its copy on their own, though the book was granted to the hospital library."
As a radiologist, Martina Lattová considered the hospital equipment and staff number sufficient, therefore she focuses on gaining the expert knowledge. "Our training provides the visible usage. On the CT scan workplace (radiological examination using X-ray) the brain examinations were done without the contrast medium. At the moment we have started using the contrast medium also when doing CT scan examinations of thorax, cervical and lumbar spine and abdomen. The doctors still have plenty to learn and develop in. They show interest in gaining new information; take active part in the lectures and are interested in interdisciplinary connections."
At the end of the course participants were able to operate the CT scanner on their own. According to the Czech doctor, the Cambodia missions should take no less than 14 days – with a week stay the tutor does not manage to supervise the independent staff work sufficiently, or to understand the local working environment and habits. More often visits that last longer might motivate the doctors to keep the gained knowledge.
Under supervision of MUDr. Lattová 84 patients could be examined in less than 14 days. The doctor also invited a technician from the Cambodia capital city Phnom Penh, who explained to the local doctors all the options the CT scanner provides.
MUDr. Jan Trachta from Motol hospital in Prague is another doctor coming to Cambodia to provide training in paediatric surgery with a focus on urology.
Medical staff training in the province of Takeo was supported by resources from the Czech Development Agency and the Ministry of Foreign Affairs of the Czech Republic as part of the Programme of Foreign Development Cooperation Czech Republic.