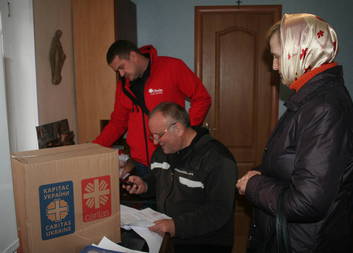 Caritas has distributed food packages to people in conflict-affected areas in Ukraine
Since 15 October 2015, humanitarian worker P. Rostislav Strojvus has been operating in the Donbas region where a gunshot fire was still heard only a few days ago. As a part of his surveillance journey, he was involved in the delivery of the latest food packages to the people affected by armed conflict in Ukraine. Thanks to the joint efforts of Archdiocesan Caritas Olomouc and Diocesan Caritas Ostrava-Opava, a total number of 440 hygiene kits and food packages, each worth 41 EUR, were given to people in need.
These days, a convoy of humanitarian aid workers from Caritas Internationalis, Caritas Ukraine and Caritas Germany, together with representatives from ACO and DCOO, accompanied by soldiers, set out to the affected conflict areas just two days ago. Food packages from the Czech Republic will be distributed in the areas that are located directly in the combat zone. Thanks to the support of Czech donors, a new way to distribute aid to villages where the conflict still exists and where people have no access to basic food can be realized.
"Food handover will take place in so-called logistic or neutral zones that are located between Ukrainian army and the insurgents. People living in these zones can come without otherwise required and complex permits and receive humanitarian aid from the Czech Republic," said P. Rostislav Strojvus. Packages compiled from financial donations from the Czech Republic have been secured by Caritas Ukraine. They were subsequently handed over to the partner organizations Caritas Melitopol and Caritas Mariupol, with whom Archdiocesan Caritas Olomouc has been cooperating for quite some time.
Even though we consider this conflict as terminated, there is still tension and fighting in eastern Ukraine. Mrs. Natalia, who came these days to Caritas Melitopol for a food package, was forced to flee her home. She decided to go to Melitopol along with her disabled husband, daughter and granddaughter. The package was given to her thanks to the evidence of relocation. Gratitude for the package was immense. "I have no idea what would I do without the help of Caritas and donors from the Czech Republic," she said.
P. Rostislav Strojvus commented on the project's partners: "We would not be able to realize the entire project without the commitment and courage of colleagues from local Caritas in Ukraine." The packages have been handed over to displaced people and to people living in affected areas by local Caritas based on their social investigation. Each package includes food and hygiene for a family of three for about one month. To some these packages may seem modest, but to those in need they are lifesavers.