When Isaac comes to Haiti
During the Atlantic hurricane season, Haiti is hit by wave of tropical storms and hurricanes every year from mid-August to mid-November. This year Tropical Storm Isaac struck in the morning on Friday August 25th. It resulted in 13 dead and 27 wounded.
Although the highest degree of danger was called off, floods and landslides are still a threat. According to information from international organizations, the most affected regions are Ouest (western part of Haiti) and Sud-Est (southeastern part of Haiti). Humanitarian organizations have been distributing blankets, shelters, hygiene kits and water purifiers in the affected areas since Friday. Distribution of aid is complicated by impassable roads and constant rain.
Problems did not spare even Caritas CR's office in Haiti. Water flooded some buildings, but the damage was minimal. "Tropical Storm Isaac hit our area in the night from Friday to Saturday and the worst situation was when it was still dark. In the morning, the wind had dropped, but torrential rains caused massive increases in the water levels and early morning water flooded some parts of Leogane and the surrounding area. Those affected are mainly people still dwelling in tents and shelters, and small farmers. The situation there has calmed down and life has returned to normal now," said Marcela Roche, Manager of Educational Projects of Caritas CR's in Haiti.
"The people in Haiti are extremely at risk of effects from natural disasters like the Tropical Storm Isaac on Friday. Due to poor living conditions and high levels of environmental degradation, such a storm has much larger and often fatal impact on the local people who live in flimsy homes or who were still staying in camps set up after the earthquake," explains Michaela Kupková, Program Manager for Haiti.
Even a tropical downpour in the rainy season floods farmers' fields and cities in the lowlands. Tropical storms cause landslides and deforested land, which often lead to casualties. "We are trying to help in Haiti, even when a tropical storm or hurricane strikes. Meanwhile we focus on projects that help prevent risks and decrease the impacts of natural disasters. We train teachers and children in primary schools and also farmers in the fields, "says Michael Kupková.
Have a look at photographs taken after Tropical Storm Isaac struck: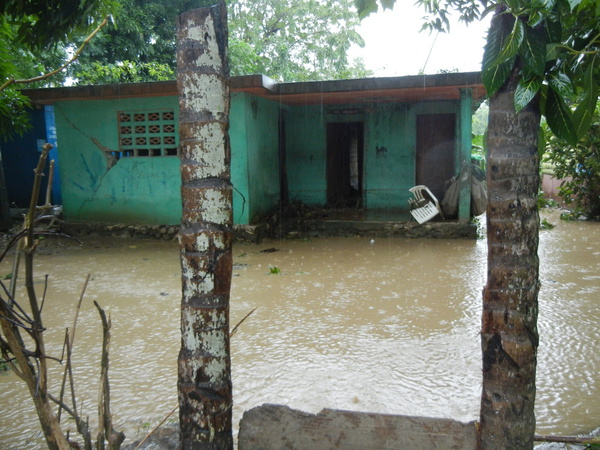 We also bring you a short video from colleague Gady Lissad:
now browser for flv format