Caritas Czech Republic helps in Mosul, Iraq
Humanitarian Aid consisting of sanitary packages and household needs packages, non-perishable food and drinking water arrived to people who need it in the Al-Bakir district of Mosul in the middle of December.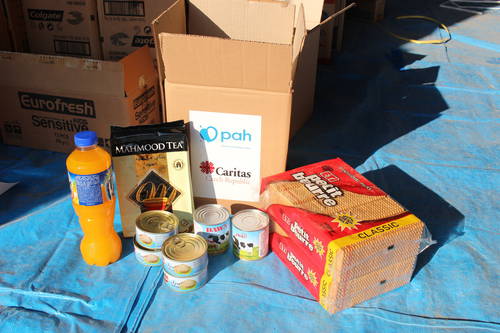 Mosul started to be a battle field in October this year after Iraq´s army together with Kurds and coalition forces had decided to gain this city back from ISIS. This battle forced nearly 100,000 people to leave their homes in a period of two months, from that 14,000 left their houses last week. Another 2,000 inhabitants are still staying in this city and it is necessary to get to them as soon as possible to deliver packages of food and other necessities.
"Distribution takes place in the city of Mosul what is really unique because the most of organisations can´t get so close to the fighting line. We hand out the packages in cooperation with local organisation RNVDO, it has helped us significantly to get to the places where needed" says Benjamin Mlýnek, program manager of Caritas Czech Republic for the Near East.
The number of people in need in Al-Bakir far exceeds expectations, distribution of 190 packages of food and sanitary items hasn´t been enough for them. Caritas Czech Republic wants to continue in immediate distribution of help close to the front area. It is planned to hand out packages for 800 families until 11 January 2017. Caritas Czech Republic is also preparing follow-up activities in January and the coming months.
Caritas Czech Republic has been focusing on providing food and non-food aid in Iraq´s Bagdad since April 2016. Caritas has operated in Mosul since December and has been cooperating with the organization Polska Akcja Humanitama (PAH). Both organizations put together a crisis team who have been operating in Iraq since November.
You can also help Iraq by sending a financial donation to the account no. 55660022/0800, variable symbol 180. Thank you very much.