Christmas at war: How Ukrainians celebrate Christmas this year
"It is lightly drizzling outside and people are walking around generators humming on the sidewalks," writes our colleague Kateřina Krejčová from western Ukraine. The atypical atmosphere, which we don't exactly associate with Christmas, is almost a daily routine for Ukrainians. How do people in Ukraine prepare for the Christmas holidays? And do they even want to celebrate it this year? Our colleagues tell us how are Ukrainians experiencing Christmas time this year.
Cities without Christmas trees
This Advent season in Ukraine is not peaceful, but rather desperate. "The ongoing war and constant power cuts are taking away the festive mood from the people of the country. It's hard to say how the Christmas holidays will go in Ukrainian families this year," says Yelyzaveta Storchak, describing how her loved ones in Ukraine are experiencing the coming holidays.
Kateřina Krejčová also describes the difficult situation and gloomy mood in Ukraine: "My colleague's dad is fighting on the front line. Every family has lost someone or knows someone who has lost loved ones. Other friends tell me that this Christmas will definitely not be like before and that it may never be the same again. I cannot imagine how the orphans in Serednie, for example, where Caritas Czech Republic is building modular houses for people who have lost the roof over their heads, will celebrate Christmas."
Power cuts complicate everyday life in a country hit by Russian aggression. "Many Ukrainians decided not to decorate their homes or trees this year. Either they are not in the mood to do so, or the frequent power cuts make it impossible for them," Storchak continues.
Christmas trees will not even decorate most of the country's squares this year. Ukrainian cities have given up this tradition in solidarity with the current situation. If any trees have been erected, they are usually very modest or unusual, like the Christmas tree in the western Ukrainian city of Ivano-Frankivsk, where the tree is made up of patriotic drawings by Ukrainian children.
Until recently, it was unclear whether a Christmas tree would be erected in the capital Kyiv. There were heated debates and petitions against it. People called for the Christmas tree not to be erected in Kyiv this year and for the money to be sent instead to the army and to the people who have lost their homes. On the other hand, the supporters of the Christmas tree argued that they wanted to experience the magic of Christmas even in times of war. The mayor of Kyiv, Vitali Klitschko, joined the latter group, saying that he "will not let Putin steal Christmas from Ukrainians".
So there is already a Christmas tree in Sofia Square, but it is half the size of last year's and it is powered by generators. The tree is decorated with blue and yellow balls and five hundred white doves, symbol of peace. On top of the tree is the Ukrainian coat of arms shaped like a traditional trident. Mayor Klitschko said that the Christmas tree was built and decorated at the expense of filantrops and companies, so the city did not spend money. Compared to previous years, there will be no traditional fairs or concerts this year.
Candlelight dinner
The ambivalent pre-Christmas atmosphere is also present in restaurants in the west of the country. "When we think about where to eat, we usually decide based on where there is electricity," says Kateřina Krejčová. But even where there isn't, she says, restaurants react flexibly by installing decorative candlesticks and lighting a fire in the fireplace.
"In the end, the dining is an unusually stylish experience. Waiters in embroidered shirts don't show any signs of their discomfort, moving between the tables without batting an eyelid, or smiling and calmly informing customers that there will be a planned power outage in about half an hour, but they are certainly not to be disturbed. I am delighted by these improvisations because they show that no amount of Russian terror can undermine the morale and creativity of Ukrainians," says Krejčová.
Christmas celebrations in western style
Christmas is celebrated in Ukraine according to different calendars: on December 25 according to the Gregorian calendar and on January 7 according to the Julian calendar. As Yelyzaveta Storchak says, most Ukrainian believers prefer the traditional January date. But this year, the Ukrainian Orthodox Church has allowed the Christmas service to be held on 25 December, following the Western model. It was a rather revolutionary move, further showing how Ukrainians continue to define themselves against Russia and its concept of Christmas. This year, Ukrainians can also give each other presents, which has not been one of their traditions until now.
"Christmas Eve in Ukraine is marked by traditional family gatherings at the so-called Holy Supper - Sviata Vecheria," says Storchak. Celebrations begin with the arrival of the first star, but preparations start already at dawn.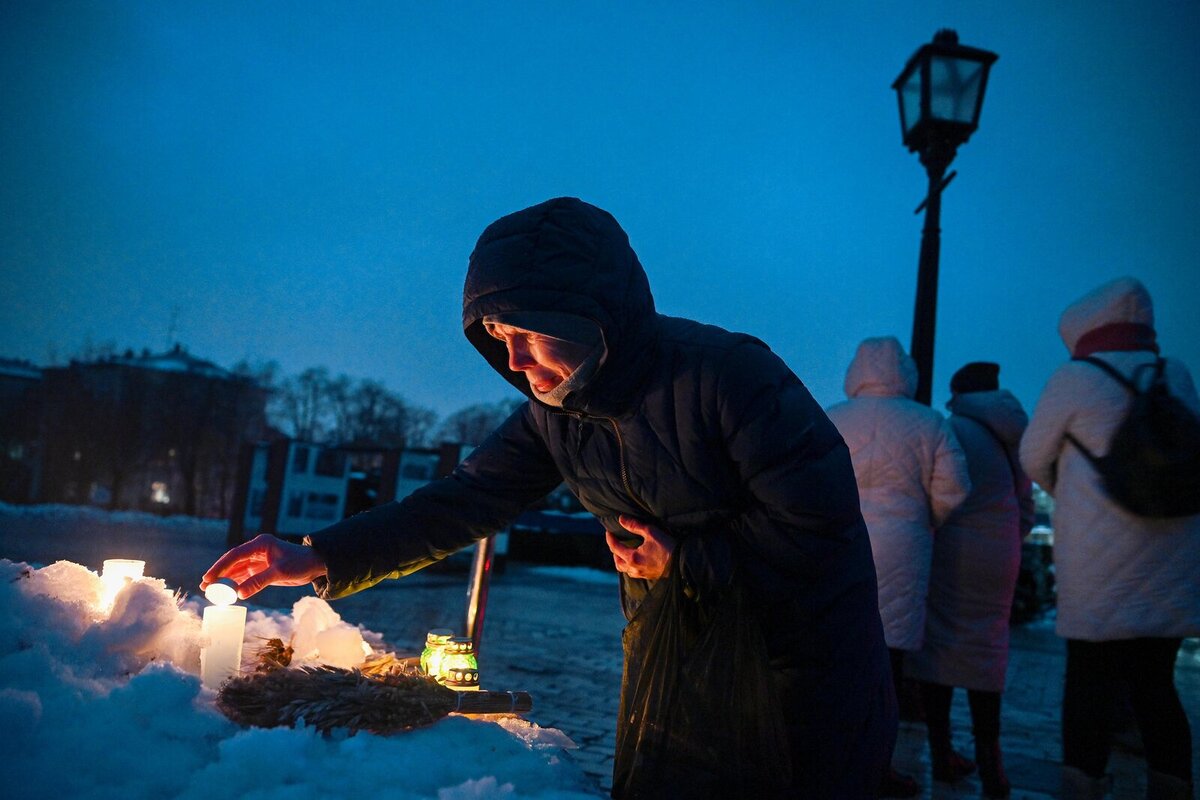 The traditional Ukrainian Christmas dinner usually consists of 12 courses, symbolising the twelve apostles. The main course is the so-called Kutia, boiled wheat mixed with poppy seeds, honey, nuts and raisins. It is also one of the most popular Christmas meals for Ukrainian children who visit the Young Caritas Centre in Prague. When we asked them what they like to eat during the holidays, they didn't think long. "Kutia, kutia, kutia," we heard from all sides. While the Czech workers at the centre had no idea what they are talking about, our colleague Oksana Stehnyak smiled knowingly. The joke is that this Christmas dish has been so popular for centuries not only in Ukraine, but in Eastern Europe in general, that the whole Christmas Eve is often nicknamed after it.
Will there be a presidential speech? And will we hear it?
Ukrainian Christmas is not lacking in street celebrations. "Girls and boys prepare special songs and poems with which they go house to house and entertain their neighbours in exchange for sweet presents and pocket money. It is believed that the more trick-or-treaters come to the house, the more happiness and wealth the family will have in the coming year," says Yelyzaveta Storchak.
But the ongoing war and the associated constant power cuts complicate even the most mundane matters. "People are worried about whether the electricity will work so they can listen to President Zelensky's New Year's speech. It's a great tradition for us and this year we are looking forward to it more than ever," Storchak explains.
Christmas in Ukraine will be really different this year. But even these holidays show the much admired indomitability of Ukrainians.
"We don't know how this year's holidays will go in Ukraine. However, it is difficult to deprive us of our traditions and meeting with loved ones at a festive dinner," Storchak concludes.
Photo author: Stanislav Krupař. Photographs are subject to copyright. Use of the material without the author's permission is illegal.