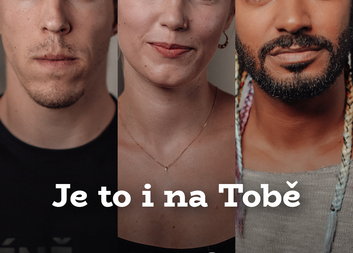 The innovation competition within Labyrinth 2030 has its own website and also knows its ambassadors!
From today, students and young people under the age of 30 can enter the innovation competition aimed at new solutions to development challenges. Famous faces from social networks also attract involvement.
The innovation competition within the Labyrinth 2030 project is here for all active young people under the age of 30, especially from technical and scientific fields, who want to participate in solving current development challenges and have a desire to improve the world. From 14th September to 30th November, those interested can submit their projects on the website www.labyrint2030.cz.
From all the submitted applications, the expert jury will select 5 advancing teams, which will participate in the innovation lab and, under the guidance of mentors, breathe the final form into their project. The absolute winner will then be announced in May 2021 at the Innovation Forum conference, which will be filled with experts and professionals not only in the field of development cooperation, but also innovation. The winning team or individual will win a trip to one of Caritas Czech Republic's missions, as well as a number of professional contacts and opportunities for future cooperation.
Influencers from the field of science and sustainable development also lent their faces to the competition. The ambassadors of the competition are; student of ecology and toxicology, and popularizer of chemistry from the University of Chemical Technology, Blanka Pilátová, space engineer from the Institute of Physics of the Academy of Sciences, Jan Lukačevič and, choreographer, creative producer, ambassador of Sustainable Development Goals, Yemi Akinyemi Dele.
More on www.labyrint2030.cz or our Facebook profile and Instagram.