The most effective help brings long term solutions and promotes independence. This is why the saying about not giving a fish, but teaching to fish is so powerful – it does not only help today, but also in the years to come. We focus mainly on securing livelihoods and shelter. Support projects that bring long lasting positive change to their lives.
Donate lasting change
Bank transfer or card payment
Transfer to the collection account
QR code
Success Stories
From a refugee to a workshop owner
Nicholas was born in Zambia, but has refugee status in the country because his parents are from the Democratic Republic of Congo, where they fled bloody violence. They found a safe haven in Zambia, where their son was born. However, as a child of refugees, he has almost no chance of finding work and supporting himself. 
We help refugees like Nicholas to get on their own two feet. We provide them with training and grants so they can start their own businesses. So thanks to Caritas, Nicholas attended a course to train as a fridge repairer. "Today I earn my living doing this," says Nicholas, who has opened his own workshop thanks to a small grant, happily. "I enjoy my work and I am very grateful for the support," adds the young workshop owner. 
From a childhood dream to her own business
Layla has loved making mosaics since she was a child, helping a small family business to grow. The war in Syria turned her life upside down. She left her home and her beloved work in ruins to reach safety. Like most Syrian refugees, Layla headed north to Turkey, where she enrolled in a training course run by the Caritas Czech Republic that supports Syrian refugees to set up small businesses. 
"I learned how to turn my hobby into a business. Today I make a living by creating mosaics," says Layla, who hopes to sell her paintings abroad one day.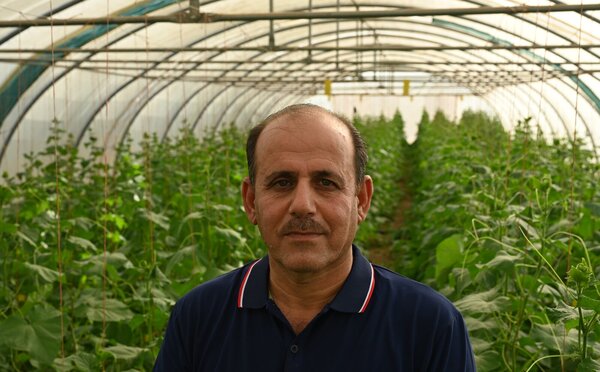 Farming again
All his life, Ziyad had farmed happily on his farm in northern Iraq. He looked after 400 olive trees and grew vegetables for sale in his greenhouse. He was especially famous in the area for his delicious onions. Then ISIS took over the area, and Ziyad had to flee to a safer part of the country. 
When he and his family returned home after his home village was liberated, devastation and destruction awaited them. The olive trees had been cut down and burnt, the irrigation well destroyed, the greenhouse devastated. "We had to rebuild the farm from scratch, and we couldn't have done it without the help of Caritas," says Ziyad gratefully. "Thanks to a training in modern farming methods and a new greenhouse, my farm is thriving again," he adds happily.
Single mother a proud restaurant owner
Being a single mother is not easy, even more so in a country like Iraq. But Maysun is a fighter. Before ISIS drove her from her hometown, she baked traditional Iraqi pastries at home and was selling them. Even so, the income was not enough to feed her family. Thanks to our help, she is now a proud owner of a thriving restaurant and employs two people. 
 Maysun received business skills training and a small grant from us. "I was able to buy the necessary equipment and open a small restaurant," Maysun says. Today, the restaurant not only supports her family, but also the family of her son, who also works at the bistro. "We were even able to hire another cook and extend the opening hours," she says, enjoying how her business is thriving.