Moldova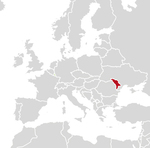 We have been helping in Moldova since 2004, firstly operating mainly through local partner organizations. In 2017, we established out own country office, which was registered under the name Pro-Development.
In Moldova, we focus on the development of social and health services, and efficient waste management. To help refugees coming from the warn-torn Ukraine, we have expanded our work to humanitarian assistance as well.
Humanitarian aid for Ukrainian refugees
Hundreds of thousands of refugees from neighbouring Ukraine have already entered Moldova, which is a challenge for the Europe's poorest country. Caritas Czech Republic is helping more than 210,000 of them. In Moldova, we are equipping refugee centres, providing immediate financial support to refugees to cover basic needs and increasing access to health and psychosocial services.
Development of social and health services
We have opened 11 home care centres in Moldova. We have provided health and social services to more than 20,000 people in need. Thanks to the development of telemedicine in Moldova, locals can benefit from remote health consultations. These services are helping people in distant regions while helping Moldova's overburdened health care system. We have also trained over 5,000 doctors, nurses and social workers. We are working closely with the Moldovan Ministry of Health, Labour and Social Protection to develop legislative changes leading to an effective homecare and social care system.
Efficient waste management
Rural regions still struggle with illegal dumping sites and often lack an efficient waste management system. We are helping local institutions with functional and sustainable management. We also organise workshops for local residents so that they can contribute to waste reduction and recycling themselves.
READ MORE ABOUT the MISSION IN MOLDOVA