Zambia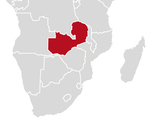 We have been working in Zambia since 2013. With nearly 200 employees, it is our biggest country office abroad. We are also the main partner of UNHCR (United Nations High Commissioner for Refugees); however, we collaborate with a number of other important organisations as well.
In Zambia, we focus mainly on supporting refugees, development of economic self-sufficiency through sustainable agriculture and creating small businesses. We also provide vulnerable refugees with university scholarships and build climate resilience. In the health sector, our focus lies in maternal and young children health, as well as nutrition.
Health and nutrition
We have worked on improving access to and quality of maternal and child care, and developed training of midwives in the Western Province. Apart from that, we supported a number of rural medical facilities, including a hospital in Lewanice, providing them with modern medical equipment for maternal and perinatal care.
Currently, we focus on support production and consumption of nutritious food, working towards eradication of malnutrition in children.
Economic self-sufficiency and agriculture
In Zambia, agriculture plays an important role and represents a potentially sustainable source of livelihood. In our work to support agriculture, we focus on increasing profitability of farmers' production and resilience to climate change, using agricultural innovations and efficient methods of farming.
We also support development of small businesses, financial literacy, and specialized training as part of self-sufficiency strengthening. Above that, we connect producers and consumers, and we provide farmers with financial support and training in management and business development.
Support for Refugees
Zambia is home to over 105,000 refugees and internally displaced persons. Most of them have very limited options regarding their own livelihoods, either due to strict government restrictions or due to conditions in places where Zambian refugee camps are located. The Zambian mission is also the main partner of UNHCR in the country and supports refugees in three refugee camps and in the capital city of Lusaka.
Our work focuses on accessibility to education for refugees, including accessibility to university scholarships, and on support of self-sufficiency through farming, which is the only possible livelihood in remote areas without basic infrastructure.
Read more about the mission in Zambia