Zambia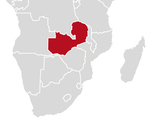 The Charity Mission of the Czech Republic in Zambia was established in May 2013 and is based in Mong, Western Province. The mission provides support for development cooperation and humanitarian aid in Zambia, in particular reproductive health and nutrition, economic empowerment through livelihoods and agriculture, and social protection for refugees. The mission has been growing steadily since its inception, currently employing more than 120 staff and implementing projects in 5 provinces: Lusaka, Luapula, Central, Western and Northwestern Provinces.
Between 2013 and 2018, the Zambian mission implemented a project to improve Mother and Child Health Care in the Western Province, which reached more than 25,000 women and 10,000 adolescent girls and boys with its sensitization activities each year.
Caritas is currently implementing projects in the field of social protection services, economic empowerment and nutrition. In its agricultural projects, Caritas focuses on improving agricultural productivity by supporting and building the capacity of farmers and cooperatives, innovation and facilitating interconnections with markets and financial services. In its livelihood programs, Caritas supports the development of small businesses, vocational training, the promotion of financial literacy and access to markets and financial services. In the field of health and nutrition, the mission is currently implementing a project aimed at supporting the production and consumption of nutritious food. The Zambian Mission is also UNHCR's main implementation partner in Zambia and supports refugees in three refugee camps and in the capital, Lusaka.