Syria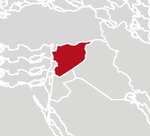 Although Syria had a steadily growing economy fifteen years ago, and used to be a popular tourist destination, recent years have been severely marked by the country's brutal civil war in 2011. Years of armed conflict have claimed hundreds of thousands of lives and forced millions of Syrians to flee their homes. In addition, survivors often find it difficult to seek medical help, a source of livelihood or basic food.
Caritas Czech Republic started operating in the country in 2013, and since then our work has focused mainly on improving health care and providing material assistance to the most vulnerable families. With the help of local partners, we operated a mobile clinic or supplied medicines for medical centers. We provided the necessary food, clothing or school supplies for the children to the families who fled to other parts of Syria before the war.
We are currently mainly repairing war-torn houses in the Idlib province in northern Syria. We do not currently have a local office open in the country and we are working on reconstructions with a partner non-profit organization. You can read more detailed information about the conflict on the Story of the Syrian War website, where we collaborated with other non-profit organizations and the Czech academic sphere.