Syria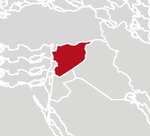 Syria used to be a popular tourist destination, but is now plagued with an ongoing civil war which has caused deaths of thousands of people. Millions of others have had to flee their homes, be it abroad or for other places in the country. Those who remained in Syria had difficulties finding medical assistance, livelihoods, and even basic food.
Medical Assistance
Caritas Czech Republic started operating in Syria in 2013; two years after the conflict had begun. We help ease the impacts of the civil war in the country. We have repeatedly provided medical assistance, for example by operating a medical clinic in Idlib region or by supplying medication and ensuring the functioning of a clinic in Aleppo.
We have provided clothing, sanitary items, but also school supplies for children or food vouchers to people who fled to other parts of Syria to escape the war. This way, we have helped more than 11,000 people who were in need.
Repairs of Homes and Water Sources
In the province of Inlib in northern Syria, we have provided decent housing to the locals. We helped them repair houses destroyed by the war, and we provided financial support to pay the rent. We managed to repair houses for 155 families.
Due to the fighting, the water infrastructure of the country is often non-functional. We helped equip a well in the city of Homs in western Syria and repaired an old local water reservoir in the countryside near Damascus. Through this, more than 20,000 people gained better access to clean drinking water.
Restoration of Livelihood
In Syria, we currently focus on employment of young people whom we help to find a livelihood so that they can get on their feet and provide not only for themselves but also for their families and, through new jobs, also for other members of the community.