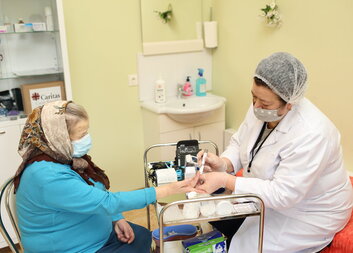 How is Caritas supporting the development of Moldova?
Caritas Czech Republic has been working in Moldova since 2004 and helped to carry out more than 20 projects during those 17 years. In Moldova, we focus mainly on the sector of social services and its affiliated, in current times very burdened sphere of medical care. Moldova is both economically and politically specific country. We've talked with Caritas' manager for Moldova, Stanislav Butorin, about its specificities and beauties.
What is the situation in Moldova today, also given the covid-19 pandemic?
Generally speaking, the economic system is not in its best shape due to the country's troubled history. The transition to a market economy was rather difficult, so there are still some issues. However, the solution for some of these issues are the projects of development cooperation, carried out in the country not only by us but by numerous other organisations as well. Quite a significant role play Romania and Russia, which is evident also during this pandemic. The situation around Covid-19 in Moldova is not as bad as in some other countries, the numbers of newly reported cases are not high, and the vaccination has already started – both Russia and Romania donated some vaccines.
Speaking of Romania, another current issue in Moldova comes to my mind: the 'brain drain'. As a considerable part of the Moldovan population also has Romanian citizenship, it is easier for them to leave the country and seek work and better living conditions, for example within the European Union. You can imagine that this one-way migration is not good for Moldova, as we are mainly speaking of younger people leaving the country.
How does Caritas Czech Republic help in Moldova?
We are currently working on two projects, which are financially supported by the Czech Development Agency. We are focusing primarily on the socio-medical sector and one of the projects is helping to create new vacancies in this sector in Moldova. Our effort is to create a new profession of carer. Which means that we are also working on legislative changes. But on the practical level, we are trying to share our know-how in this field from our Czech experience, especially regarding the quality of the service.
The second project is based on a so-called delegated cooperation, through which we improve social and health care on both sides of the Dniester river. The aim is to build trust between the Transnistria region and the rest of Moldova. We also want to build a home care centre in Transnistria, as our Moldovan mission has a wide experience with this. Our partners for the project are the Homecare Association, the Czech Development Agency and GIZ – German Development Agency. Again, this project involves work on the legislation level, so we closely cooperate with local administration and few other interested subjects. This project is a very specific one, it's a challenge for us in the best meaning of the word.
You've already mentioned a few of your partners. Does Caritas in Moldova work with more organizations? Why is this cooperation important?
We have exceptional relationship with the Homecare Association – they are involved in most of our projects. For example, last year we have bought and reconstructed a home care centre in Kishinev. Another local organisation is the Association "Health and Sport", which is our main partner in the Dniester region. Both organisations are indispensable to us especially for their knowledge of the region. They know the context they are working in, that is, the context of Moldova, so they can effectively help us both with legal issues and the contents of the projects themselves. We are also working with Caritas Slovakia, GIZ, but we are very welcoming of new opportunities in this field of international cooperation. We often communicate with embassies and ministries because we can provide them with valuable information since we work in the region and recognise its needs and troubles.
What are Caritas' future plans in Moldova to support the development of the country?
Right now, we have two projects under preparation; the first one aims to improve the waste management infrastructure in Criuleni. The second one is proposed to the European Commission and focuses on establishing social canteens. Moldova is not a rich country and the virus made its situation worse. Even though there is some kind of support from the government, it's usually in the form of financial help. Nobody actually came up with a programme to distribute basic food. On top of that, with the situation around the pandemic, it's even more problematic now. So, because we have experiences in social care, this programme follows most of our activities in the country, and it would be most probably done in cooperation with our centres of home care.
Do you still see any room for improvement? What is the future of development cooperation in Moldova?
What needs most work is the infrastructure, on various levels, in various regions. Some regions are even worse than the rest of Moldova – such as Transnistria as mentioned above or Gaugazia. I also think it would be great to focus on tourism industry as well. Moldova is famous for the production of excellent wine, it is even one of the countries with the highest density of vineyards in the world. But because the country lacks good infrastructure, not many tourists visit Moldova. Which is a pity because there are many things to see and I believe the wine-making industry can attract the visitors. In Georgia, for example, Caritas has supported wine producers and tourism, so perhaps this is the way for Moldova as well.