Iryna left Kiev with her family. But they are staying in the country and want to help
Iryna Selina was born in Kiev and lived almost in the city centre. After the outbreak of the war, she moved with 4 adults and a child to Drohobych, in the west of Ukraine, where Caritas Ukraine operates. Our colleagues there help internally displaced people on the ground - providing them with food, clothing, accommodation and medical care. Read how the refugee group assesses the current situation and what their plans are.
Iryna, what do you think about the situation in Ukraine right now?
Because of Russia's insidious actions, our country is now in a very difficult situation. They are our neighbours and they have been our enemies all our lives. They have suppressed us, oppressed us, and now I feel that we have gone back to the Middle Age because of them. While other civilisations are moving forward, our neighbours live in the belief that everything will be solved by violence. (crying)
Do you remember the first time you felt in danger because of Russian aggression?
I remember it quite well. It was at the time when Russia invaded Georgia. When there was a war in Chechnya - Ichkeria before that, I did not understand it. But when Russia invaded such a small country, which is as big as our capital Kiev in terms of population and size, that is when I really started to get scared.
My husband can hardly see anything at dusk, so he did not enlist in the army
Unfortunately, your fears have come true. Tell us with whom you came to Drohobych and where the rest of your family is.
Unfortunately, my eyesight and my age prevent me from staying there to help. The men stayed in Kiev and we - five adults and a child - left. It was not safe there. I took my mother-in-law, who is 90 years old, with me.
My husband, who celebrated his 59th birthday this year, is with us. Because of eye impairment, he could not enlist in the army as he can hardly see anything at dusk. He has never served in the army, he is a lecturer at a polytechnic university. I mean... he was.
When did you get here?
Late Friday evening, February 25th. We did not bring anything with us except our documents. Our only clothes were the ones we were wearing. We came here to register and ask for help.
How does the local Caritas help you?
They provide us with food, clothing and medical assistance. When they found out we had a 90-year-old mother-in-law with us who is a disabled pensioner and has had two strokes, they took us in immediately.
Does that mean there is a health centre?
Yes, that is right. The people here are very nice and helpful.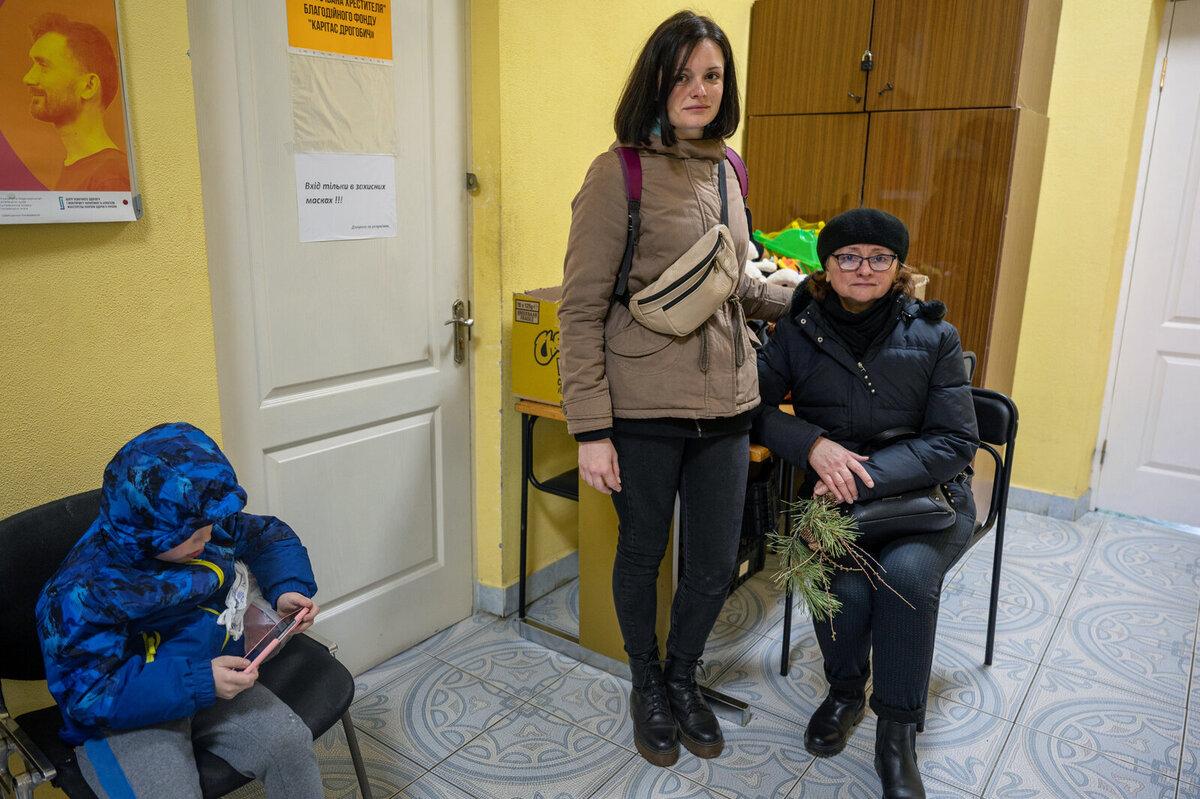 Russian soldiers razed the city of Mariupol to the ground
What are your plans and what do you think will happen?
We believe in our victory. We hope and pray for it every day. I firmly believe that our enemy will come to his senses and that Putin will stop active war attacks. Or that the whole world will unite to help localize and isolate Russia.
In the 21st century, I would expect tan information or economic war, but to slaughter civilians is savagery. He already killed many people, it is insane - even residential buildings are being targeted by Russian soldiers. In Mariupol, for example, there are no houses left standing. 
The same applies to the smaller tourist towns around Kiev, where people used to go for a relaxing holiday. Irpin, Buca, Borodjanka, Hostomel - all towns have been destroyed. That means years of hard work, money and people who built the towns. Now, Putin is destroying them.
As for our plans, it depends on how the situation develops. For now, we plan to stay here, we want to find a job and not burden our state. We moved to Drohobych to get involved and to do something. We do not want to stand by. If we are useful, we will contribute to our victory.
What was your occupation before the war?
I had not worked for the last few years because I was taking care of my sick mother. She died last October. Also - as I said - I have a mother-in-law who needs care 24 hours a day.
Before that, I worked as a sewing technologist. When Ukraine became independent, the factories started to close gradually. I had small children at that time. Meanwhile, my original job had disappeared, so I started working in a shop.
Our family never received support from the government; we relied only on our strength. We have always been able to take care of ourselves and we are still trying to do so now.
None of you expected a situation like this.
Yes, it was terrible. Sudden and unplanned.
Another adult woman from Iryna's group joins the conversation. We turn to her for the following questions.
When this is all over, we will go home and rebuild what was left
How do you feel about the current situation?
When the whole of Ukraine is doing everything to ensure that we win, we cannot and do not want to stand aside. We will stay here as long as it takes. Then we will return home and rebuild our hometown and, of course, the whole country.
What was your profession before the war?
Before 24 February, I worked as a sales manager for the international French cosmetics company Yves Rocher.
Is that why you know so many languages?
Yes, it has to do with that (laughs), I learned them all myself.
Interested in more stories like this? Read more: