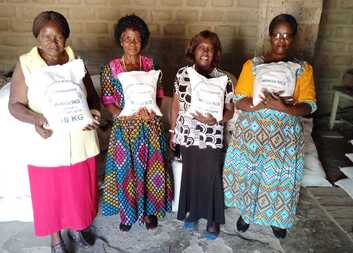 Masupanzila: Zambia's women farmers empowering other women
They call themselves Masupanzila, the Pathfinders. They are a group of 24 women fearlessly crossing the waters of Barotse Floodplain to take care of their rice fields in Mongu District, Western Province of Zambia. Masupanzila Women Multi-Purpose Cooperative Society was established more than a decade ago with the purpose of empowering female peasant farmers, tailors, and women involved in traditional crafts. One of their founding members has a message for struggling women from all over the world. "Don't give up!" says the cooperative chairperson Sanana Munalula Mbikusita Lewanika.
Land ownership is not very common for women in Zambia. While the general opinion in the country is that women do not own the land, the situation is slightly better for women in the Western Province of Zambia, where the Masupanzila cooperative works. The women were able to secure land and start farming on it. Caritas Czech Republic supported the women and helped them launch a business. The founder of Masupanzila and its chairperson, Sanana Munalula Mbikusita Lewanika, talks about the cooperative's work, the obstacles they have to overcome and what she enjoys the most about her job.
When was the women collective Masupanzila established?
The story of Masupanzila started way back, in 2003. I was one of the founding members, together with Beatrice Matakala Simon and Lilian Imbwae Mutoka. The three of us met in a meeting about women empowerment where women were encouraged to stand up for themselves. That struck us so much. We asked ourselves: what is it that we have available, what can we as women work with? And we realized that we do have two very important resources: land and water.
What did you plan to do with these resources?
Firstly, we needed to actually secure the land. There is still this notion in Zambia that women typically don't own land. It's not the tradition in Western Province. I own land that I inherited from my mother who also inherited it from her father. My husband also supported us by giving us land. We then decided to start growing rice. Barotse plain is full of water so rice can do well there. And it is a cash crop, we knew it would bring us a profit. Later we also added other crops such as maize, our staple food, and sweet potatoes.
The main idea behind Masupanzila is however not to help ourselves alone. What we wanted is to improve the lives of other women and raise their standard of living. So we shared our ideas with others and gained more members, including very vulnerable women from local markets.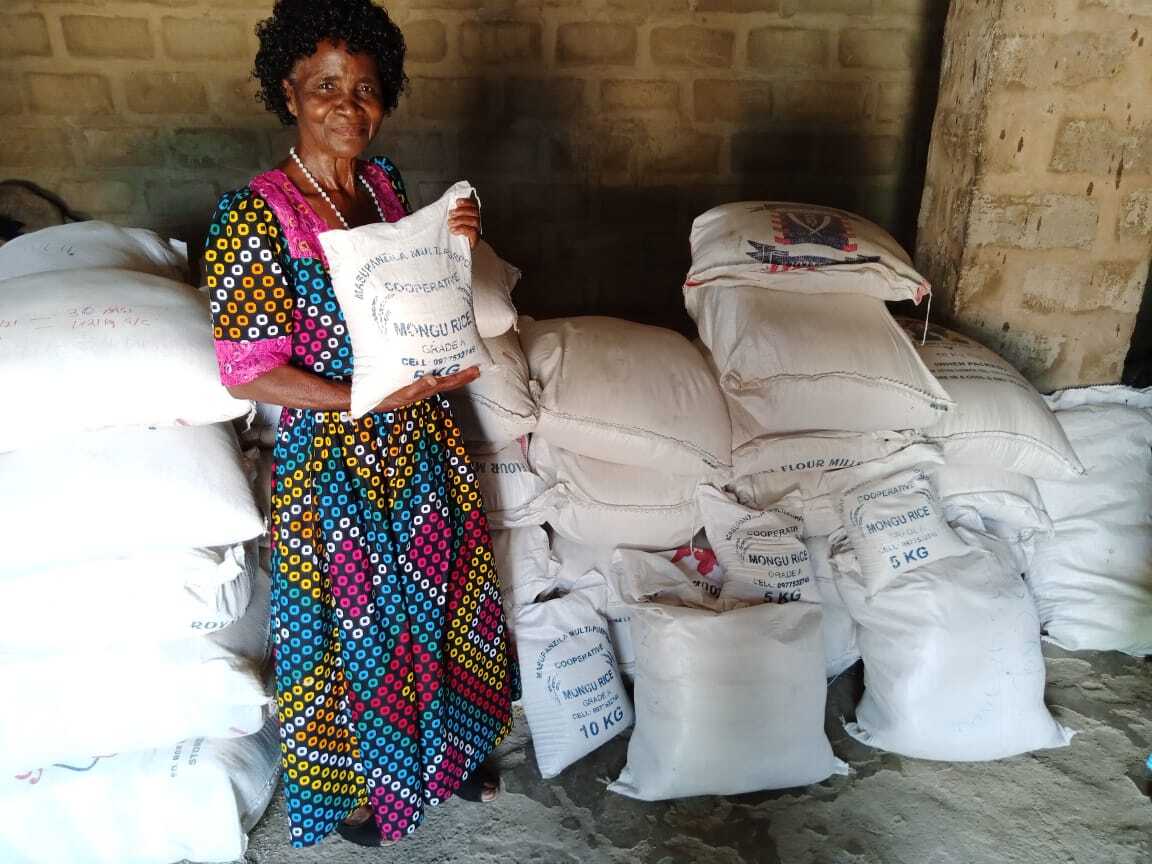 What started as an idea of three friends is now a formally registered cooperative. How many members do you currently have?
Today, we are 24, and we no longer focus only on farming. We wanted to have something for everyone. So besides farming, we also started with making clothes, with batik. That is why we registered as a multipurpose cooperative. Though our priority has always been to use the land.
What is best about your job?
The whole point of this work is to sustain our families. When I see the determination of other women, especially the most vulnerable ones, how they just go down to the plain and start cultivating, to see them upgrading themselves... I really enjoy that.
Your cooperative was also supported by Caritas Czech Republic. How did Caritas help you?
There is a number of cooperatives in Mongu who could have been supported. But I think Caritas has seen our persistence and potential and  this is why we were chosen to be among the few who got supported. It's the persistence that makes us viable. When we were asked to apply, we came up with a business plan for rice production, processing and marketing. Caritas provided us not just with financial support but also with capacity building. We were also able to interact with various experts, for instance from the Ministry of Agriculture. They encouraged us not to give up. Thanks to this, we later came up with more ideas. For example we recently started producing mango jam.
How is it going? Was mango jam a success?
Huge success! People were so excited about the jam. The demand was so great that we could not satisfy it. We started with the production a bit late, the mango season passed and we ran out of fruit. But now we know that we want to continue producing mango jam. So we need to find a way of enhancing our capacity to store the fruit and also explore other methods of preservation.
What other challenges do you face?
We are rice growers. So what we are interested in is value addition in terms of rice processing. We grade the rice, polish it and we also need to package it. In Mongu, there are no printing companies able to produce good quality packaging materials. The branding on the bags they make for us fades quickly. So we approached big printing companies in Lusaka. But they require orders in very large quantities, and the price is too high for us.
Another challenge is ploughing. Only a few people in Mongu have reliable tractors we can rent. This year we ended up on a long waiting list. It's hard for us. If you start plowing too late, you may fail. Also, the place where we farm gets very muddy. So we need a four-wheel tractor and accessories that won't get stuck in the mud.
It would be great to get support for that. But whether with or without it, we will make it one day. I heard that's exactly what the other women in our cooperative say. This tells me we still have that good spirit. We won't give up.
Today we celebrate the International Women's Day. What message do you have for other women who might be struggling?
To all the women out there – come up with an idea! You are the ones who always feel the pinch. As women, you know how it feels to go to sleep without food or to see your child hungry. Don't give up! Challenges are you stepping stones.
Mrs. Lewanika is the second from the right in the cover photo. She also has life outside farming and works as Justice of Peace Advocate at Caritas Mongu.
Caritas Czech Republic has been working in Zambia since 2013. We help local farmers improve their agricultural productivity and increase their income through training, value chain development and access to markets. We focus on conservation farming and moreover promote the production and consumption of nutritious foods. Caritas Czech Republic in Zambia also helps refugees and their host communities to strengthen their ability to make a sustainable living.
Together with other organizations, we have also been involved in the fight against the Covid-19 disease in Zambia. We have worked on preventing the spread and mitigating the impact of Covid-19 pandemic in Western Province and in Lusaka.