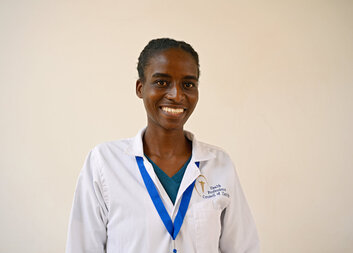 Stories of refugees who are getting back on their feet thanks to Caritas Czech Republic
"Ever since I was a little girl, I dreamt of becoming a doctor. But my family could not afford the school," twenty-seven-year-old Sigiro, a refugee from Rwanda, tells us in a Zambian hospital. "Caritas Czech Republic helped me secure a scholarship and today I am a doctor," Sigiro continues happily. We support refugees like her to stand on their own two feet. Because often all it takes is a little support at the beginning for refugees to take their lives into their own hands Read the stories of the people we support.
Support in the beginning
The image of a refugee waiting with an outstretched hand for help could not be further from the truth. Refugees are people who have been displaced from their homes by war, natural disaster or persecution for their beliefs or opinions. They often leave behind their loved ones and the work or studies they pursued in their homes.
In their new countries, refugees find it difficult to access both education and employment opportunities. In most cases, they cannot pursue the work they did in their home country. Young people are missing out on the opportunity to study because they cannot afford school. People with the talent or the desire to work and contribute to the well-being of society face obstacles that prevent them from fulfilling their dreams. Yet all it takes is a little support at the beginning for refugees to be able to stand on their own feet and take their lives into their own hands.
Layla: I create mosaics for a living
 
"Since I was a child, I have loved making mosaics. I even helped to make them in our small family business," says Syrian Layla Ibrahim Kadur in her new home in Turkey. The war in Syria turned Layla's life upside down. Her hometown of Kafr Nabl in the north-west of the country turned into a ghost town during the civil war. Most civilians fled to safety from the bombing, and so did Layla, who left her home and her beloved work behind in the rubble.
Layla wanted to continue making mosaics, but found it difficult to find opportunities to do similar work in the new country. One day she heard about Caritas Czech Republic's training course, which teaches Syrian refugees how to set up their own businesses. Layla did not hesitate and signed up for the course. She spent a year learning the basics of business and then, thanks to Caritas' financial support, opened two art galleries of her own. Finally, she started doing the work she has loved since childhood again.  
 

Esther: I sew clothes to help support my family
 
Esther lives in Zambia but is originally from the Democratic Republic of Congo. Her parents had to leave the country because of the war. Although refugees are safe in Zambia, it is difficult for them to find work or start studying. The solution is often to set up their own business. But without education and without finance, this is a difficult task.
 
Thanks to our support, Esther attended a course to train as a seamstress. After successfully completing the course, she received a small grant from us, which she used to buy a sewing machine and fabrics. "I sew clothes for women in the area and use what I earn to help provide for our family," the only 19 year old Esther says shyly. Her small business is a big help to her family. Esther has six siblings and as the third eldest, she helps contribute to the family budget through her sewing.   
 
Hassan: The war in Syria has taken almost everything from me, but not my desire to go on living 
 
Hassan's entire family died in the bombing of Idlib. He lost his left leg and can only move around with the help of crutches. Because of the war, he had to drop out of school and could not find any work. "While surfing the internet, I came across an offer from Caritas Czech Republic that provided training courses to start your own business. So I gave it a try and signed up for the course," says Hassan.
Hassan had an idea to open a small electronics shop. His hometown of Idlib was just starting to roll out the electricity grid at the time. Caritas Czech Republic supported him to set up a business and today he is the proud owner of a small electronics shop. "Thank you for giving me a steady job today," Hassan concludes with a broad smile on his face.  
 
We are helping refugees in Zambia thanks to the financial support of UNHCR. In Syria, we are working with a local NGO Violet. 
Interested in articles like this? Read more: