Young Czech women to support school attendance in Zambia through menstrual pads sewing workshops
The Labyrinth 2030 contest for young people which focused on innovations in development aid has its winner. Or rather winners. The expert jury formed of representatives of the largest Czech non-profit development and humanitarian organizations chose as the best the project of Alena Machálková and Michaela Šrámková. It focuses on supporting emancipation of women and breaking taboo surrounding menstruation in Zambia through workshops about how to make menstrual pads.
The expert jury selected the best project out of five ideas. The winner also gets the chance to visit one of the foreign missions of Caritas CR. According to the representatives of Adra, Diakonia, People in Need, and Caritas Czech Republic, the best project was the idea of ​​Alena and Michaela, who, through workshops about manufacturing menstrual pads, try to support local women and break the taboo around menstruation in Zambia.
In many African countries, even basic things like menstrual pads are hard to find. It is something that any woman can easily make at home, though. Alone, or together with other women. Comfort is not the only benefit of having access to suitable period products. It also reduces the risk of infection, as well as missed out school days. Getting together with other women to manufacture pads also creates a safe environment where women can discuss pressing topics and regain their voice. Another benefit is creating of jobs and increased independency.
Out of the fourtenn teams that took part in Labyrinth 2030 contest, five made it into the finals. The authors of the winning project, which was chosen on 21st April by representatives of Adra, Diakonia, People in Need, and Caritas Czech Republic, will have the opportunity to join our mission in Zambia.
Both winners Alena and Michaela talk in an interview about what led them to the idea and what the journey through Labyrinth 2030 was like for them.
Why did you choose the topic of women's emancipation through workshops on making menstrual pads in Zambia?
Alena: The topic of women's emancipation is very personal for me. I spent over 4 years in Africa and visited 30 different countries, and I soon realized that even though women work very hard, they have very little support in what they do. Women seemed to be seen but not heard. No one listened to them in many communities for so long that they stopped talking. The system is often set up by men and for men and so basic things like sanitary pads are inaccessible to women. At the same time, it is something that everyone can produce. The material is available and this activity helps in many areas - reducing infections, less missed school, profits, and, most importantly, creating a safe environment where women can discuss important topics and regain their voice while making pads. I see these discussions as a key. I believe that communities, where women have found their voice or strengthened it, are communities that are not only safer for young girls, but also more open to new ideas.
Michaela: The topic appeared through the work of Alena's non-profit organization Bookfeeding in Tanzania which supports the construction of libraries in several countries in the global South, more specifically after talks with locals. They mentioned the high absence of girls in schools due to menstruation. This problem has also been confirmed by several studies specifically from Zambia, which point to a lack of sanitary products, but also to poor facilities in schools in terms of water, trash bins, sanitation, and privacy in toilets. In many cases, girls use a piece of dirty cloth instead of pads. Therefore, they often stay at home during their periods and do not return to school at all. We decided to target the workshops not only girls but mainly at women who can already sew. They can sew the pads for themselves and also for their daughters. At the same time, we hope for the potential sale of the pads, an increase in women's incomes, and expanding their job opportunities.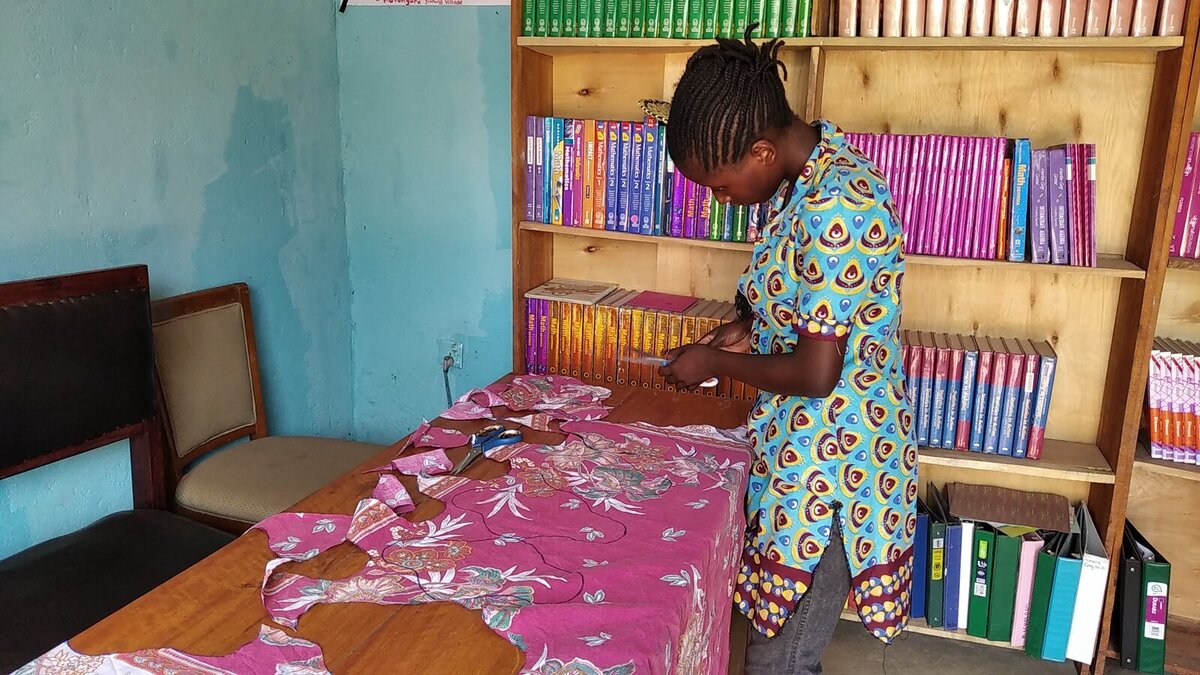 How was the final stage, the announcement of the winners? Were you expecting a victory, or was it more of a huge surprise?
Michaela: I am really happy that the competition brought together projects of a very diverse focus, from technical to more "soft" or better to say social aspect. This fact allowed us to learn a lot from each other. In my opinion, everyone deserves support for their projects. We were surprised, but at the same time, we knew that the strength of our project is that we have already undergone a pilot phase in Uganda. We had the chance to improve some practical details and, above all, we proved that the project makes sense and that it offers a solution to the current situation in many communities and countries. More specifically we talk here about taboos around menstruation, but also contraception and venereal diseases, and then especially the oppression of women and their role in development.
When we speak about the pilot of the project in Uganda, I wonder what the pilot phase was like?
Michaela: Overall, the pilot charged me with incredible energy, mainly due to the response that the workshops had. First of all, the pilot was very unique in terms of the group of girls that attended it. Among the participants were girls who became pregnant during the pandemic, all between the ages of 14 and 18. The fathers of these children did not want to see them and the families of these girls rejected them completely. The stories of the girls and our debates about motherhood or menstruation showed Alena and me what should be our focus in future workshops. It has been confirmed that the advantage of the workshops is in their simplicity: girls and women need minimal skills to sew and materials can be easily obtained.
Did any improvements or new ideas showed up during the pilot phase?
Michaela: Certainly, whether it's the production of fabric bags for the pads, the creation of a brochure, and an instructional video so that the know-how can spread without our presence or the organization of so-called teen centers. The last idea came from the participants and the library management, within which the workshops took place. They complained that there was no place for young people to feel comfortable and talk about topics such as menstruation, contraception, motherhood, or sexually transmitted diseases. There is only one gynecologist for the city of Kasese in western Uganda that has 100 thousand inhabitants. So obtaining a proper examination or information is a big problem there. Teen centers would create a safe space for young people where they could get at least basic information about these things. But this is for another separate project.
For you two,  Labyrinth 2030 is far from over, because you will travel to Zambia to see the mission of Caritas CR. How has the journey through this contest been for you so far?
Alena: Beneficial. Not only thanks to workshops and mentors, but the bit of competition simply motivated us and we tried to outperform ourselves. The Uganda experience was certainly also important, as we could have seen first-hand how the project can help with education and access to sanitary products. It was no longer just a project on paper, but we saw what kind of results it could bring and how many people it could help.
What do you plan to do next with the project?
Alena: I have this idea from the beginning, in case that we will see that the project can help the people, that I will try to offer it to the communities I work with through the non-profit I founded, the Bookfeeding Project. Libraries can be a great place for women to meet, sew pads together, and find answers to their questions in books. We have an eye on several communities, so we are working on a guide that we want to share with them. The advantage of the project is its flexibility. Thousands of girls will not return to school due to unplanned pregnancies because of the pandemic and closed schools. These girls are often stigmatized and may even be thrown out of their homes by their parents. We believe that this project can at least connect them, show that they are not alone, and allow them to earn some money.
Michaela: We will definitely try to spread the workshops to as many communities as we can adapt them to specific groups of women, either through the non-profit Bookfeeding or through other Czech organizations, if they will like the idea. We also want to work more on the scenario in which the know-how for the production of pads would spread independently of us, through a brochure or video.