Behind the scenes of Caritas Czech Republic: Meet Noemi Seregi, our Desk officer for Zambia
Would you like to know more about the Humanitarian Aid and Development Cooperation department in Caritas Czech Republic? We launched a series of interviews with our colleagues who will tell you more about our work across the world. This time we interviewed Noemi Seregi, the Desk Officer for our mission in Zambia.
How long have you been working at Caritas Czech Republic and how did you end up here?
I started working here about 3 years ago, in January 2019. I have always wanted to work in the humanitarian aid and development cooperation sector, so when I saw that Caritas Czech Republic was hiring, I didn't hesitate and immediately applied. I've heard about the organisation and its work before and it seemed really interesting. I was happy when I was accepted as a desk officer for the Zambian mission. 
What are your responsibilities as a Desk officer?
My primary responsibility is to support the missions. My work focuses on Africa, where we currently have activities in Zambia. So I'm supporting my colleagues in Zambia with anything they need. It is, for example, drafting contracts for partners, and advising them about communication, human resources or procurement. On top of that, I also contribute to writing proposals for new projects, or I monitor the ongoing projects in Zambia, which means that I am reviewing and approving the development of each project thanks to a specific tool that the mission is updating on a monthly basis, in addition, to review monthly reports for the project. Part of my job is also doing project reporting, maintaining the relationship with our donors and any other help or support the mission needs.
How does your typical workday look like?
It is not easy to say how does my typical workday looks like because it can be very different every day, which is also what I really like about my job. But anyway, I usually start the day by checking my emails and that often sets up what my day will look like. I also check in with the mission, whether there is anything urgent they need. If there is nothing urgent, I continue working on my tasks. It could be reviewing a proposal, reporting, or monitoring of the projects as well.
My work is usually closely linked to what time of the year we are in. January and February are reporting periods, and then the archiving time comes. I also need to handle administrative tasks on a monthly basis, then monitoring, process, contract with partners, supporting the missions… There is always something to do, and it is never dull!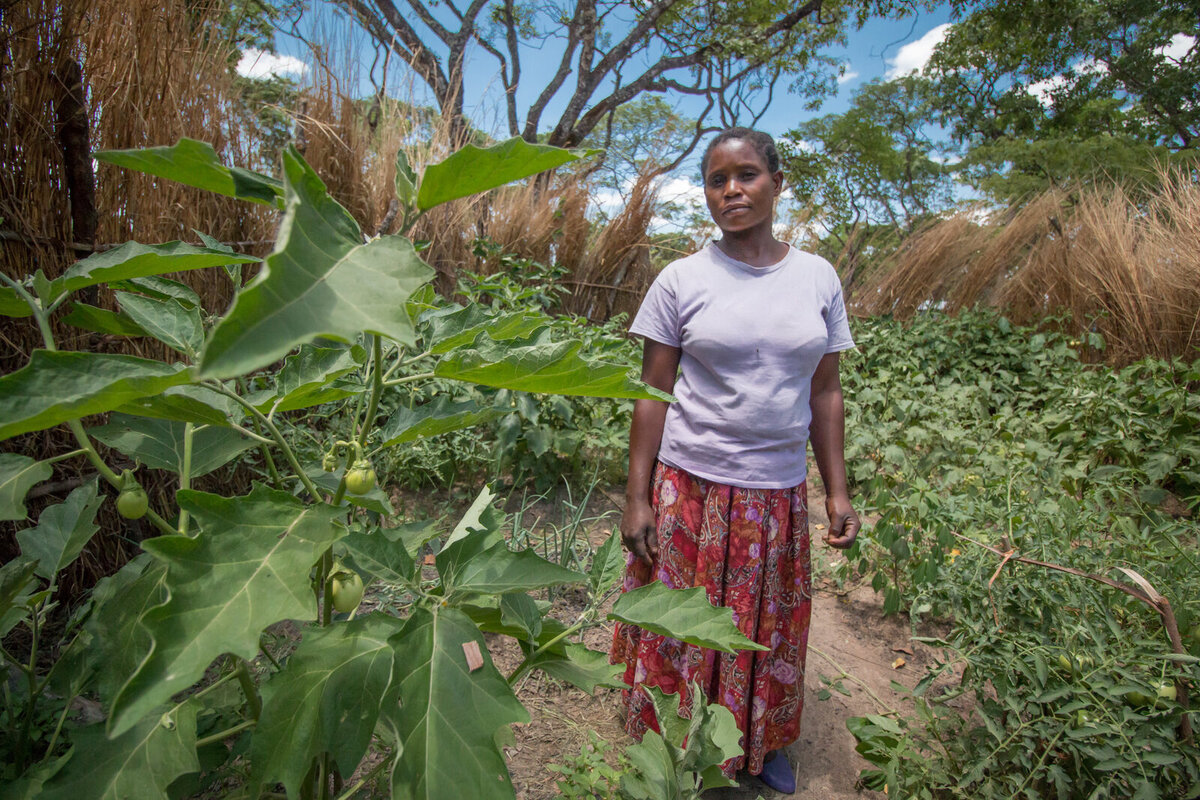 What do you enjoy the most about working at Caritas Czech Republic?
I really enjoy working with the team, not only the team at the headquarters in Prague but also with the colleagues from the Zambian mission, they are really great and we work very closely together. Another thing I really enjoy is that there are always some different tasks. Not every day looks the same. I really enjoy working with our donors, for example, reporting to them and keeping them updated on the project and answering any of their questions.
What is your best memory of working as a Desk officer here at Caritas Czech Republic?
I wouldn't say there is only one best memory. I really enjoyed working in Zambia though. I spent 2 months there when I started in 2019, and it was really nice getting to know my colleagues who are working in the field, but it was also really challenging.
Apart from that, I can not pick one best memory. I always really like it when we successfully submit one proposal, and it all comes together. It is not really a celebration but it is a nice moment. Or when something gets approved and we know that we put so much work into it.
How often do you go to Zambia to visit the mission? What is your best memory from there?
It should be around once a year. I managed to go in 2019, and I spent a long time there. But then the pandemic came, in 2020 and 2021 I could not go there. Hopefully, I'll be able to visit the mission again this year.
My best memory from Zambia was definitely getting to know all the people we work with in person. Not only our colleagues but also the representatives of the donors like UNHCR or the World Food Programme. It was something very unique and I was lucky to spend more time there in Zambia in 2019.
What is your greatest pride in the Zambian mission?
The greatest pride, I would say, is how fast we are developing. When I started we had five projects running. Last year, we had 13. So within just two years, we have basically more than doubled the number of projects and the funds that we have got. In Zambia, our organisation is also very well known, so that is definitely the greatest pride and it shows that we are doing a great job there.
What do you do when you are not at work? What are your hobbies?
I really enjoy reading, doing yoga, and baking. I also have two dogs, so I like playing with them or going for a walk with them.
Interested in interviews like this? Read more: