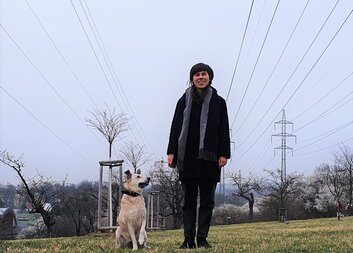 Volunteering opens new doors for us, says Adéla Procházková
Adéla Procházková is the executive assistant at the Department of Humanitarian Aid and Development Cooperation at Caritas Czech Republic. Among other things, she is there to help volunteers and interns. As she says herself, volunteering is one of the ways to participate in shaping positive values in society. Thanks to Caritas' recent success, another way of volunteering is ready, this time abroad! Find out more about the opportunities in the interview.
What do you think is the biggest benefit of volunteering?
Volunteering is a great way to get to know new people and partly ourselves too. It is a selfless, sincere activity that we do in our free time. That way, people can participate in shaping positive values in society, as we do in Caritas Czech Republic. In addition, volunteers have the chance to put their knowledge and skills into practice. Thus, they help the community around and they push forward the projects we are working on as well.
Recently, Caritas Czech Republic has been given the Quality label for the humanitarian sector under the European Solidarity Corps programme. Can you tell us what this certification means?
The Quality Label is a certification of the European Solidarity Corps volunteer programme, which falls under the European Commission. This programme has different thematic sections, and this one specifically relates to humanitarian aid. Such accreditation allows us to submit volunteer projects in the framework of specific calls. This will allow volunteers to go on our foreign missions to Iraq, Zambia, Mongolia and Georgia.
This certification complements our previous activities. Last year, we received accreditation from the Ministry of the Interior in the field of volunteer service, which provides legal guarantees for volunteers in the Czech environment. The Humanitarian Quality Label itself builds on the EU Aid Volunteers programme, under which we have been certified in the past.
What does this mean in practice for volunteers?
For volunteers, it mainly means a guarantee of quality. If they go on a mission abroad with us, their safety will be guaranteed. It also means that they will be provided with the most beneficial training programme possible. This focuses primarily on strengthening local communities, environmental protection and digital skills.
Our Prague office has this certification as a sending organisation, while four of our foreign missions are host organisations. Volunteers are therefore assured that they will be well looked after, as certain requirements must be met to be certified. The sending organisation must train the volunteers and provide them with organisational assistance with documents such as visas. The host organisation then primarily provides their facilities and mentoring.
Who can apply to the Caritas projects under the European Solidarity Corps?
Anyone aged between 18 and 35 with a permanent residency permit in the EU Member State can apply. The European Solidarity Corps promotes the involvement of young people with certain disadvantages, whether socio-economic, geographical or otherwise.
What are the general requirements for applicants who would be interested in going to one of our missions abroad?
First and foremost, they should be highly motivated to get involved. The desire to help local communities in the countries and responsibility are important. They should bear in mind that this is a humanitarian field, so they should be clear about what solidarity means to them. This is, of course, a key-value within the European Solidarity Corps.
If circumstances do not allow someone to travel abroad, what are the possibilities to become a volunteer at the foreign department of Caritas Czech Republic?
At the Prague office, we work with volunteers who help us, for example, with language translations, co-creating our website, graphics and social media content. Since the Russian invasion of Ukraine, we have had a lot of calls from people who are willing to help us with translations from Ukrainian. We also have volunteers in logistic coordination related to humanitarian aid.
Our Global Development Education section organizes the Young Caritas program which holds lectures and creative workshops with a focus on civil society and sustainable development. In addition, they currently run a kid's playroom in the Congress Centre, which currently serves as a shelter for Ukrainian families. These are all opportunities for volunteers to get involved.
It is possible to apply based on specific calls. We also have a section on our website regarding internships in our international department. These are also posted on our social media.
Do you have experience as a volunteer as well?
I have experience volunteering at cultural events and with informal education for children. In the past, I have also volunteered for community projects abroad, specifically in Poland and Germany.
How has volunteering influenced you? What has it brought to your life?
For me, volunteering is about meeting new people, learning about different cultures. Often, thanks to volunteering, I have found what I really enjoy, even though it might be something different from my professional career.
When you are in the work cycle, you often experience things that move the work in a different direction than originally intended. Volunteering is a thing we do in our free time. We want to do what we enjoy and what brings us new experiences. That way, it opens new doors for us.
Interested in more interviews like this? Read more: