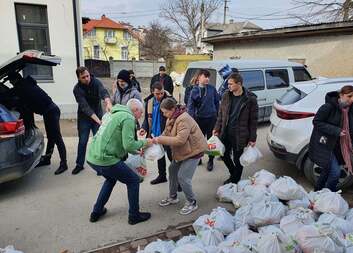 Caritas helping in Ukraine: The situation escalates and the needs are growing every day
Caritas workers in Ukraine are committing themselves to assist thousands of internally displaced people fleeing the war. They provide food, drink and shelter for the locals and help to transport them to safety while supporting the most vulnerable; children coming from families as well as other institutions. Take action and help Ukraine.
In times of world crisis, individual Caritas come together and act as one. The Caritas operating in Ukraine, Caritas-Spes and Caritas Ukraine, are now helping thousands of people who have left their homes and are desperately seeking a safe haven at the moment. Within the country itself and abroad.
To ensure that Caritas can continue in its help in Ukraine, the Caritas Network has launched an emergency appeal for financial support. Such contribution will empower 13,000 workers to provide support, especially in Kyiv, Zhytomyr, Odesa and other areas of concern. We also provide financial assistance to our long-standing partner Caritas Ukraine.
"Our towns, homes and schools are destroyed. But no one will destroy our hopes for peace and freedom," said Fr Vyacheslav Grynevych, the Executive Director of Charity-Spes in Ukraine.
The organization provides internally displaced people with food, drinking water and basic hygiene products. The staff and volunteers offer shelters to sleep and help transport fleeing families to their loved ones.
A significant part of our support focuses on women and children in particular. Caritas-spes currently operates 22 family homes across Ukraine, transporting the most vulnerable there and to other centres too. The staff also focuses on psychological support for the children living in institutions, who have to cope with the stress resulting from the ongoing conflict. Ukraine has one of the highest numbers of children living in institutions in the world.
Tetiana Stawnychy, the President of Charity Ukraine adds: "We are very proud of our team. They are working hard to meet the needs of the most vulnerable while facing their own situation. We are grateful for the outpouring of support from our partners and people of goodwill from abroad. Please support Caritas' fundraising efforts. The needs are growing every day."
Support the work of Caritas in Ukraine. Every contribution counts.