Jean from Zambia is now the owner of a cassava processing business thanks to Caritas Czech Republic
Jean Makunga Habukali is a farmer living in Mongu, located in Zambia's Western Province. Jean was a radio presenter, but she lost her job in 2018. After that, Jean started farming cassava and cashew, however, she lacked proper facilities. Caritas Czech Republic provided Jean with cassava processing equipment and adequate space. Thanks to our help, Jean is now the proud owner of her own cassava farm.
GIVE A CHANCE FOR A BETTER LIFE
Supporting farmers from developing region
The Western Province, where Jean lives, is one of the least developed regions of Zambia. Most locals make a living by growing their own crops. Unfortunately, the region lacks agricultural facilities that can efficiently process the fruit and vegetable harvest. Therefore, local farmers have trouble accessing the market with their produce.
Jean has crops of cassava, which is very common in this region. Up until today, the farmers still use the traditional methods of cassava processing, such as peeling, fermentation and sun drying. Such techniques are not only time consuming, but also labour intensive. Caritas Czech Republic helps farmers like Jean to increase their production and process it efficiently.
A dream come true
Until recently, Jean was more focusing on cashew production. The nuts are not so difficult to process and do not require so much space. To support her livelihood, we provide her with cassava processing equipment and with proper facilities. Thanks to our help, Jean is now the owner of her own cassava processing business, which she named Easy General Dealers.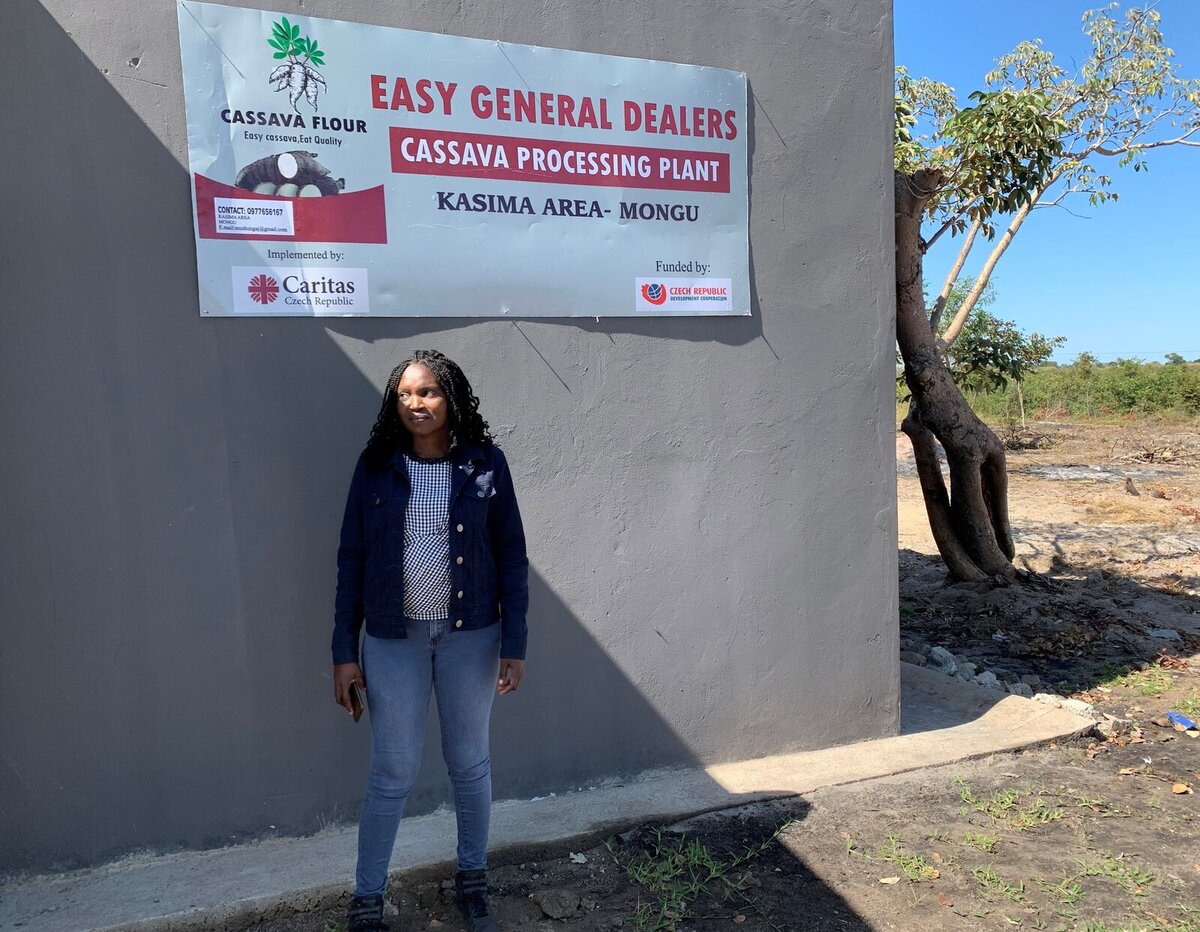 Jean, who used to make her living as a radio presenter, has always had an entrepreneurial bent. When she lost her job at a local radio station in 2018, she had to find a way to provide for herself and her family. Owning her own processing business is a dream come true for Jean.
"I would like to thank Caritas for giving me the opportunity. The new cassava processing plant will not only support me but also other people in the region. I am looking forward to exporting my products to neighbouring countries, especially Angola and Namibia," says Jean about her plans for the future.
Caritas Czech Republic in Zambia is supporting farmers as part of the project "Increasing productivity and supporting the development of mango, cassava and organic fertilizer value chains in Western Province, Zambia' that started in 2020 and is funded by the Czech Development Agency. Caritas Czech Republic is working on this project in partnership with the Zambian Ministry of Agriculture, the Czech University of Life Sciences and the University Barotseland.
Interested in more stories like this? Read more: