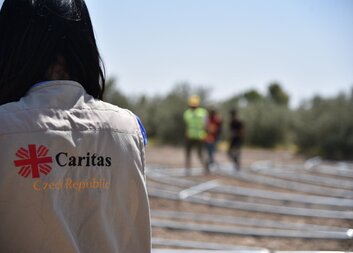 One day at Caritas Czech Republic's mission: Come with us to Iraq
Do you want to see how it looks like at Caritas' mission? We have put together a short video series through which our colleagues will show you what their working day looks like. Let's start in Iraq - Shahad Butrus from the local team will take us on a field trip to one of our projects.
Helping farmers to rebuild their fields
Shahad works as a PR officer at our branch in Iraq, which means that a significant part of her work is visiting our projects and meeting not only other colleagues, but especially the people we support in the country. This time, she will take us on a field trip to Bashiqa, a town located right at the heart of the fertile Nineveh plain.  
A large part of the local population depends on income from agriculture, but their fields have been often destroyed by the self-professed Islamic state. That is why we are supporting the farmers who have returned after the war and are trying to rebuild their farms. We teach them new skills and provide them with financial grants so that they can stand on their own two feet and be able to take care of their families. 
Shahad will tell us more in the following video: