Thanks to our support, Georgia has a new organic farm
Upper Adjaria is beautiful, but life has not always been easy for people there. Who wants to succeed in this wild part of Georgia has to be creative and willing to work hard. Guram Dzirkvadze is one of those people. He has built up a prosperous organic farm with his own hands. Thanks to the support of Caritas Czech Republic, he can now export his products further afield, and ultimately make it to the European market.
There were just a few bushes at the start
The whole idea came about 7 years ago after he planted first few raspberry plants. At that time, it was the only raspberry field in the village.
"The first year, everybody was surprised what I had achieved," says Guram. "Both the raspberries and later on blackberries I was growing significantly improved the quality of our production. It was something new, there was a huge demand for my fruit. I realised it was a way to make a living."
The local climate is really suited for raspberry production as it allows for three harvests a year, including during the winter months.
Jobs for the whole village
Guram was right. The demand for his raspberries in the village of Dioknisi and the surrounding areas was enormous. The farmer therefore decides to extend his business among other families. He managed to grow 15 000 plants, which he then distributed with the promise to buy out the expected production. There are 3-4 acres of raspberry fields in Dioknisi now, the production surplus is continuously spreading into surrounding areas.
This way many people found a job that pays rather well. There are about 25 tons of raspberries grown in Dioknisi, and Guram believes that one day his village will become the heart of a growing raspberry business.
Getting to the European market
Over time, Guram has started growing also some other fruit, especially various types of grapes, but also fruit trees. He first bought some seedling using his own savings, but later on applied for support to be able to extend his orchard. You can find apples, pears and some typical Georgian fruit there. It is especially the later ones that sell well.
Caritas Czech Republic provided his farm with a special cooling truck, which means he can easily transport his fresh fruit further away, even as far as Batumi. He is sure this will also allow him to reach the European market.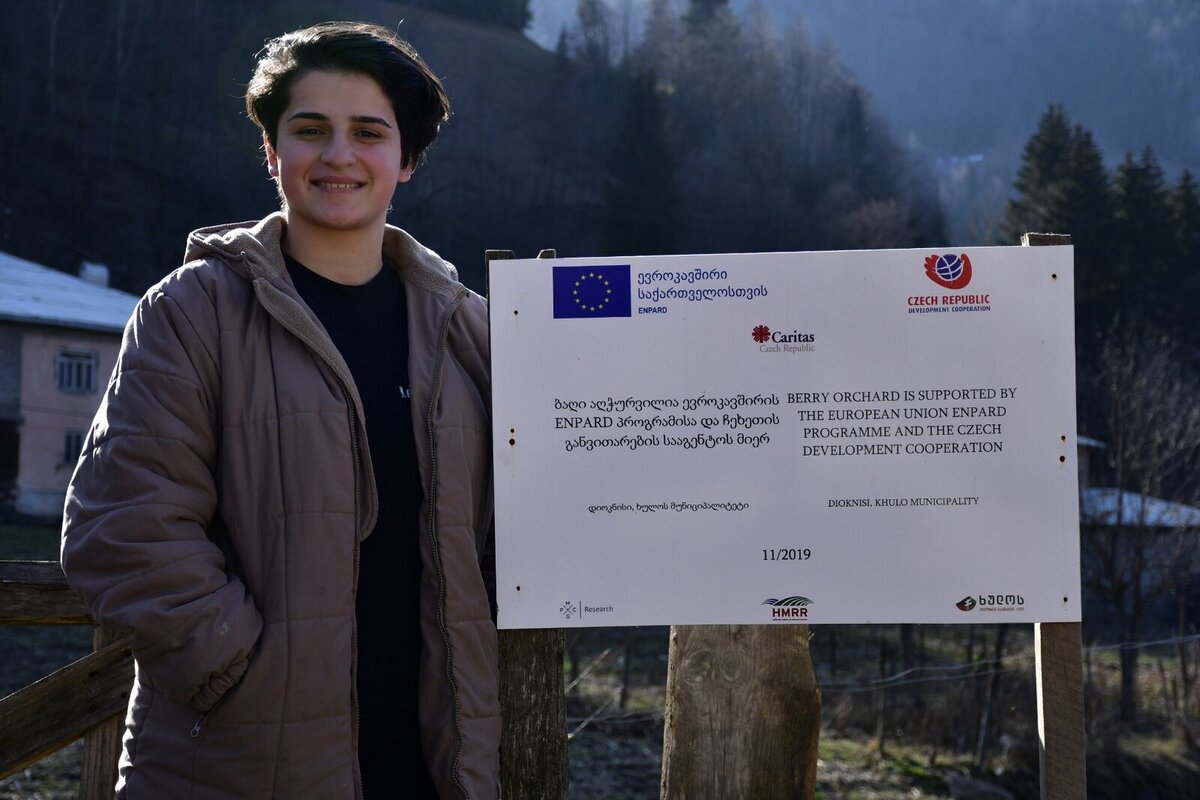 Helping Adjaria
The support for Guram and his farm war possible thanks to a project aimed at helping small and middle-sized businesses, and increasing life quality in the poorest parts of Georgia. Caritas Czech Republic helped create more than 200 jobs in upper Adjaria. In total, we have supported small and middle-sized businesses with 1 030 000 EUR, which will result in total 73 projects. Another 440 000 EUR came from co-financing by the beneficiaries. We are able to help in Adjaria thanks to financial support from the EU-funded ENPARD program and from the Czech Development Agency.