Behind the scenes of Caritas Czech Republic: Meet Mwiya Mulope from Zambia
Would you like to know more about Caritas Czech Republic? We launched a series of interviews with our colleagues who will tell you more about our work across the world. Mwiya Mulope works as a project officer in Mongu, Zambia. In the following interview, Mwiya describes how Caritas Czech Republic helps fight malnutrition in rural Zambia, how we support local farmers and what he enjoys most about working with us.
How long have you been working at Caritas Czech Republic?
I joined Caritas Czech Republic in 2018 when I started working as a field officer for a project that focused on agribusiness. I was working with local cooperatives, small and medium scaled programmes and also with schools.
What is your position now?
Before I got to my current position, I moved from Mongu to another Caritas' office in Kaoma. I then spent a year in the Mayukwayukwa refugee settlement, after which I moved back to Mongu in western Zambia where I work as a project officer under a project focusing on fighting malnutrition in rural Zambia, together with the World Food Programme and the Czech Development Agency.
Can you tell us more about these activities? How exactly do you fight malnutrition in rural Zambia?
Our work in this area involves a range of activities. We take a comprehensive multi-sectoral approach to promoting the production and consumption of nutritious food, and thus fight malnutrition. It means, for example, that through community volunteers we teach pregnant and breastfeeding women how to cook nutritious meals. In Zambia, we have a traditional dish called nshima, a thick porridge made from maize, which fills you up but doesn't contain enough nutrients. So the women are learning what to add to the nshima so that their children get a wholesome meal. We also support farmers and show them how they can increase their harvest. Moreover, we introduced savings groups because it is difficult for villagers to access conventional bank loans.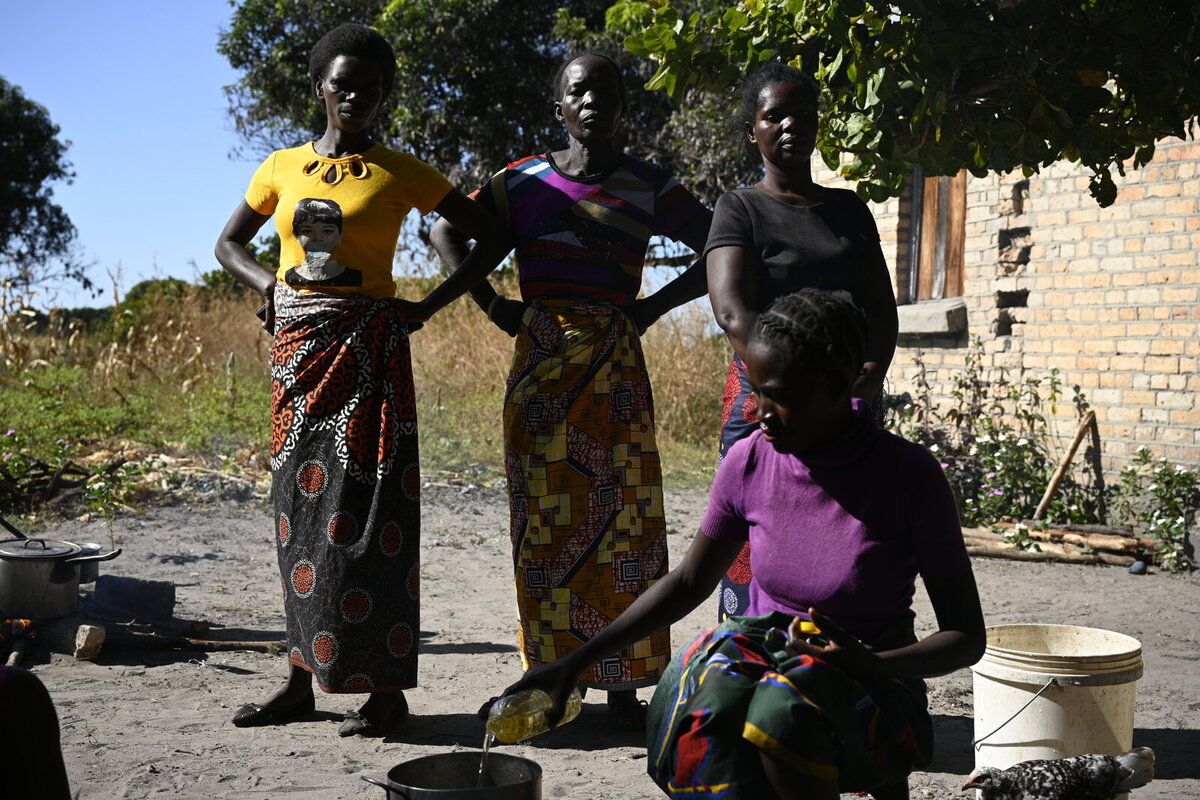 How do you like working at Caritas Czech Republic?
My work is incredibly interesting and fulfilling. Caritas Czech Republic exposed me to different environments, it gives me a lot of opportunities in terms of interacting with the people we support as well as with my colleagues at the office.
How often do you get to visit the people that Caritas Czech Republic supports?
As a project officer, I spend more time doing administrative tasks so I don't get to the field so often. Usually I visit the people we support about once a month, sometimes even twice. In our project we have four field officers who meet the people much more often.
You already told us a bit about Caritas Czech Republic's work in rural Zambia. Can you give us more details?
We currently have two projects in our area. One, as I mentioned, is mainly dedicated to fighting malnutrition, supporting farmers and local rural communities. We train community volunteers who then regularly visit the villagers and check, for example, the weight and height of the children to see if they are developing properly. We have also trained so-called lead farmers, teaching them how to withstand climate change and how to increase their harvest by, for example, planting in rows and using fertiliser. The lead farmers then pass this knowledge on to other farmers in their communities. Savings groups, which I have also mentioned, help villagers save money to buy equipment for farming, for example, or to send their children to school. We have also introduced model gardens in several local schools, where the schoolchildren themselves, together with their teachers, grow vegetables to diversify their diet.
What does Caritas Czech Republic do in the second project mentioned?
The second project we have in Mongu is funded by the Czech Development Agency and is dedicated to supporting five farmer-entrepreneurs and helping them set up processing plants for mangoes, cassava and cashews. This is because there is a lack of processing plants in Mongu, and because of this, the abundant harvest is often not processed. Caritas will also help these entrepreneurs get their products to market. As part of the project, we have also supported a number of small farmers, to whom we have given mango and cassava seedlings, some of which they will sell to the entrepreneurs mentioned above once grown.
Can you share with us your favourite memory related to working at Caritas Czech Republic?
Hmm, there are many! I can't pick just one memory. But for example, I like to remember working with farmer cooperatives. One of them, Masupanzila, really appealed to me. It's a group of women who got together and managed to succeed as a farmer collective and are still very successful today, we are still in touch with them.
The work with the refugees in the Mayukwayukwa settlement was also very interesting. I am glad that thanks to Caritas I could contribute to improving their lives in Zambia.
What do you like to do in your spare time?
I like to keep myself busy all the time. When I'm not at work I love singing, I go to church and I sing with my colleagues. I enjoy chess and playing football. In the summer I travel to new places, take photos and have a good time.
Interested in interviews like this? Read more: