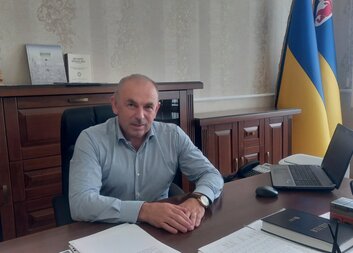 Dozens of people are staying in a single room, says Vasyl Demianchuk
Because of the Russian invasion, millions of Ukrainians were forced to leave their homes.  According to the UN Refugee Agency, it is estimated that more than 7 million people are internally displaced. We discussed the most urgent needs of people who left their homes because of the war with Vasyl Demianchuk, Deputy Head of the Transcarpathian Regional Council.
More than 160 thousand internally displaced people found temporary shelters in Transcarpathian region, which is now known as the safest place in Ukraine. The Russian army has so far launched only one rocket at this region, – at a railway station near Volovets. So many people consider it as a proper place to live through these horrible times. 
How many forcedly displaced Ukrainians have you managed to help in the Transcarpathian region through the war times? 
If we are talking about a common number, then about a million Ukrainians escaped the war through the Transcarpathian region. Of course, not all of them stayed. Many people were here only for a few days and then they went further abroad. But still the number of internally displaced people who remained here in Transcarpathia is large. It reaches approximately 400,000 people. Of course, not all of them are registered. Many have been living somewhere in the private houses of local residents. And those who stayed in hotels were not all registered either. Today, some people have returned to the territories liberated from the enemy.  
Where are do you usually host the internally displaced people?  
Usually, we host those who are registered. Most of them are hosted on premises of educational institutions: dormitories, kindergartens, classrooms, sports halls, etc. This is, of course, better than living under fire from Russian missiles, – but the conditions there, frankly speaking, cannot be considered suitable.
What difficulties do people face here? 
People often do not have a 24-hour supply of water. They must live, for example, in large gyms, surrounded by dozens of strangers. There is no way they can have some privacy. There is also lack of household appliances, for instance: washing machines, microwave ovens, refrigerators. There are locations where we need to put extra shower cabins so people can feel more comfortable and not have to wait for a long time to satisfy such a basic need as a shower.
How is the provision of basic needs for internally displaced people covered? 
You know, it is very difficult now. In the beginning, charity organisations were actively involved and helped us, but now much less. You know, the local territorial communities have taken care of internally displaced people since the beginning of the war. They still have this responsibility, but they are also very exhausted. Their resources are running out. Lately, it has become even more difficult to provide, for example, food and hygiene products for people who have fled their homes because of the war.  
How fast are the people who have fled to Transcarpathia able to integrate, find a job in the place of relocation and stand on their own feet? 
Internally displaced people are often unable to find a job and become financially self-sufficient. Most of the people living in government shelters are mothers with children and pensioners. So, they usually do not have the opportunity to work. Despite this, the Transcarpathian Employment Service has already received approximately 20,000 applications for employment from internally displaced persons. Unfortunately, there are not that many vacancies.
Caritas Czech Republic is currently building modular houses for internally displaced people in Transcarpathia. Will this initiative help to meet the biggest needs?  
Definitely yes. The most urgent need we have now is, of course, accommodation. Decent housing for forced settlers is extremely necessary. The academic year is about to start, so we need our educational buildings to be available for students and pupils. We do not expect that people will be able to return to their homes in the near future. After all, almost all of those who remained with us are people from the currently occupied territories or places where hard battles are going on right now. Their homes are either destroyed or under Russian occupation. That is why the help of Caritas Czech Republic in the construction of modular houses, as well as the reconstruction of unfinished buildings in the territory of the region, is not just necessary, it is extremely necessary. This is the very first thing we must do. Decent housing for internally displaced persons is our most urgent need now. Therefore, your work is extremely important today. 
Caritas Czech Republic can help internally displaced persons in Ukraine thanks to the Ministry of Foreign Affairs of the Czech Republic and the Transcarpathian Regional Council.