Meet the women of Caritas Czech Republic
They live in different countries, sometimes ten thousand kilometres apart. Yet they have many things in common. Women who work at the Caritas Czech Republic and women who have received support from Caritas to get back on their feet. Who are the women of the Caritas Czech Republic and what do they wish for International Women's Day?
A refugee from the Democratic Republic of Congo who lives in Zambia and earns her living by sewing. A nurse who helps lonely Moldovan seniors not to feel abandoned. An Iraqi woman who started working outside her home for the first time in her life after the war. A Mongolian woman who launched a social enterprise to help rural women secure work. Or a Georgian woman who is fighting for better conditions for children with autism in her country. These are the women who make up the Caritas Czech Republic, and they all agree that every woman should have the opportunity to work and pursue her dreams. Let's take a look together at the messages of women from the countries where the Caritas Czech Republic works.


Zambia
Christelle Manjunga fled violence in the DRC to Zambia, where she lives in a refugee camp. As a refugee, she has long struggled to find work and provide money for her family. "Thanks to the Caritas Czech Republic, I opened a small tailoring shop and gained an important source of income. I can send my children to school and provide good food for them," says Christelle gratefully. "I want to wish all women to get actively involved in work to improve their lives."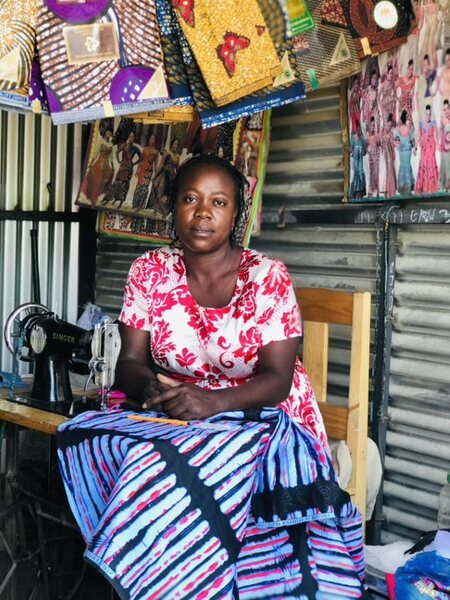 Rabecca Kafunte, who has also received support from the Caritas Czech Republic in Zambia, has learned how to better manage her money thanks to our Savings for Change programme. "As women, we have to work very hard to earn a living. I learned how to manage my money properly thanks to Caritas and today I wish all women could become financially literate too," says Rabecca.
From Zambia, our colleague Deborah Kabambe, who works as the coordinator of the DAFI scholarships programme, also sends a message to all women. She says it is important that women are actively represented in the humanitarian aid and development cooperation sector. "Women are always on the frontline when it comes to improving living conditions, not only for their families but for the whole community. I am happy to be changing people's lives for the better through my work in the humanitarian sector."
Martina Havlíková lives and works in Zambia too and manages Caritas Czech Republic's programmes in this Sub-Saharan African country.
"Although equality for women and other disadvantaged groups is one of the main goals of our work, it doesn't always look like that in practice for us," says Martina. "In the past, it has happened to me that some partners have treated me differently from my male counterparts or have spoken directly to men, even though I was the one who handled the issues," Martina continues. Nevertheless, she says she is happy to be involved in activities that can contribute to addressing issues of inequality and inequity, at least in Zambia.
"I wish all women to be able to be the women they want to be and to be able to fulfil their full potential in a just and barrier-free world," Martina says from Zambia.
Iraq
"Women make up half the population of Iraq. But because of war and terrorist attacks, they do not have the same job opportunities as men. For women in rural areas or some communities, job opportunities are almost non-existent because of entrenched customs," says Yaqeen Nasser-Ben, an Iraqi woman who joined our programme to rebuild Iraq's infrastructure after the war.
"On International Women's Day, I wish every woman had the opportunity to work. To be able to take an active part in building society and communities, to be equal to men in expressing her opinions and in decision-making. I want women to be able to live with dignity," Yaqeen sends her message from Iraq.
Khitam Watheq Muhammed is also living in Iraq. She has spent her entire life as a housewife and until recently never thought of working on her own. But when the family was struggling for money after the war, she decided to take action.
But there are not enough job opportunities in Iraq after the war, and for Khitam there were almost no jobs to choose from. So she decided to open her own art studio. "I have always had a talent for drawing, so I wanted to develop my talents and eventually turn my hobby into a source of livelihood. The Caritas Czech Republic and the UNDP supported me with a financial grant which enabled me to buy art supplies and frames."
"Today, I am successfully selling my paintings and there is quite a demand for them in Anbar," smiles Khitam. On International Women's Day, Khitam wishes all women not to be afraid to follow their dreams and not be marginalised.
Mongolia
Thanks to the support of the Caritas Czech Republic, B.Chuluundolgor runs a social enterprise in Mongolia, making baskets out of old newspapers. As she says, she takes great pleasure in helping rural women secure work and thus an important source of income for their families.
"Women are unique and beautiful beings. They are naturally empathetic, strong and persistent. So I would like to encourage all women to use these qualities to achieve their dreams. Happy International Women's Day!" Says B.Chuluundolgor.
Mijidsuren Chimeddorj, the Caritas' Project Manager, adds a message from Mongolia: "I think most women are natural caregivers and therefore well suited to the development cooperation sector. Most of us can relate to the problems faced by the people we help and can understand them on a more personal level," says Mijidsuren.
Moldova
Maria Sidor and Elena Bardar both live in Moldova, where they help lonely Moldovan seniors to be cared for and not feel abandoned. Maria works as a nurse and Elena, at 72, helps as a health volunteer. Both women love their work and enjoy being able to put a smile on their patients' faces.
 
"Most of our patients are very lonely people. When they see me, it's like they're waiting for their mom to come home from work. Every time they visit, they tell me how much they missed me and that they were afraid I wouldn't come back. But when they see me, they know that they are not abandoned, that someone cares for them," says Maria Sidor, who, like Elena, works at the ESTERA home care centre opened by the Caritas Czech Republic in Moldova and run by our partner NGO Homecare Association
"Our mission is not just to clean and iron clothes. I believe that what helps lonely people is our presence, the right word spoken at the right time and a positive attitude," says Elena Bardar.
Georgia
Rusudan Chkhubianishvili, Tamar Kurtanidze and Ekaterine Meskhrikadze work at the Caritas Czech Republic's mission in Georgia and are involved in a range of topics. Whether it's supporting the local healthcare system, providing better services for children with autism or decent housing for people with disabilities.
All three Georgians agree that women play an important role in development cooperation. "Women bring intuition and a lot of diverse ideas to our sector," says Rusudan Chkhubianishvili. "Women are more empathetic, creative and hardworking and can help to better understand the role of women in society and promote their rights," adds Ekaterine Meshkrikadze.
And what do Georgian women like about their work? "I am grateful for the opportunity to contribute in some way to the development of our country," confides Tamar Kurtanidze.
"I am glad for the opportunity to help those in need. It is important for me to see how I have been able to contribute to the happiness or success of other people," says Ekaterine.
Czech Republic - Global Development Education
The Caritas' foreign department is also active in the Czech Republic, in the form of Global development education. Its programme manager, Šárka Prošková, believes that the presence of women in the humanitarian and development aid sector is very important. "In my opinion, women have a slightly different view of the world than men, and this diversity is essential for work in our field. It allows people to understand each other better and the resulting work is much more effective," says Šárka.
Šárka Prošková wishes all women to be able to live in a world where everyone has equal rights regardless of their country of origin, race, religion or gender. "Unfortunately, in many countries, the opportunity to study, work, or even make decisions about one's life is still a privilege only for men, and I would therefore wish for all women a world where such differences do not exist."