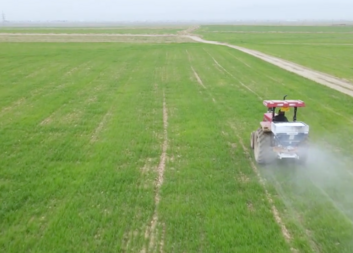 Mr. Labib can farm again after the war in Iraq
One of the main areas we focus on in Iraq, is helping local farmers to rebuild their farms destroyed after years of conflict. We built high-capacity greenhouses and provided farmers with seeds, tools and fertilizers, as well as with intensive trainings. One of those who joined our programme is Mr. Labib Eshoea Estiffo.
Becoming a farmer again
Mr. Labib is 59 years old and he has spent his entire life farming in the Nineveh region, which has one of the most fertile lands in Iraq. Before the war with the so-called Islamic State, Labib's family owned an orchard, one of the best and well known in the area, as the farmer says. But like many others, Mr. Labib lost his farm because of the war. "Our orchard was destroyed after ISIS invaded our lands," he shares.
For most farmers, the war not only meant the loss of their property, but after ISIS left their territory, they lacked the resources to restore their livelihoods. "This is why I was thrilled when I learned about Caritas Czech Republic's project. I applied and was admitted," says Mr. Labib enthusiastically.
Material assistance and sharing experience
Having a profession in agriculture is something that is not only in Iraq inherited for generations. Mr. Labib's family has nine members, and he also passes on his knowledge to his children, as his parents did before to him.
Thanks to our training, Mr. Labib himself learned something new. For example, he found out more about fertilizers and how to use them for an even better harvest. He also received a greenhouse, where he can put his knowledge into practice, and thus support his large family and re-establish his farm.
In cooperation with the Ministry of Foreign Affairs of the Czech Republic, Caritas Czech Republic has carried out a programme focused on the return of the displaced people to the Nineveh region. In addition to material assistance in the form of greenhouses, seeds, or fertilizers, we also provide trainings for farmers. This way they take away not only new knowledge, but also a very important sense of belonging with others. "The trainings were very informative. I am glad I was able to learn so much, but even more important for me was the opportunity to share my own experience with others," Mr. Labib says.
The reconstruction of Iraq
Caritas Czech Republic has been working in Iraq since 2015 and our activities are gradually transitioning from providing immediate humanitarian aid to more permanent forms of aid, such as restoration of livelihoods and rural agriculture to creation of new jobs. Economic development of Iraq is also negatively affected by damaged infrastructure. Pope Francis also expressed his support for the Iraqis during his March visit to the country.