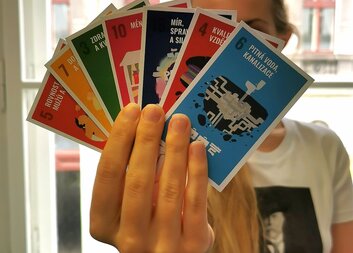 The Game 2030 helps to raise awareness of sustainable development cooperation
On the occasion of celebrations of the World Games Day, Šárka Zápotocká, the manager of the project Labyrinth 2030, gave us an interview. A new card game with the name "2030" was created and focuses on the Sustainable Development Goals and development cooperation of the Czech Republic.
The card game "2030", created as part of the project Labyrinth 2030 and introduced in April 2021, is a fun way to raise awareness and gain new knowledge about Sustainable Development Goals and international development cooperation. Šárka Zápotocká, the program manager of global development education, will tell us more about how the game was created, what is its message or what are the plans with this game for the future.
Why was this game created?
Based on our team's several years of experience working with the topics of sustainable development, foreign development cooperation, and humanitarian aid, we have concluded that it would be good to create a game that brings these topics closer to people in a pleasant way. We decided to use a form of gamification - in better words education through playing. This gives us an interesting opportunity to introduce these topics to people. Gamification is a generally popular tool through which people can learn new things in a non-formal way.
What is the purpose of the game and what are your plans for the future?
As I said, the game itself serves to educate people about our main topics. That is why we want it to reach the widest possible group of people. Professionals Lucie Pozníková and Andrea Kosařová, who work in the field of game design, took part in the creation of the game. They created specific illustrations for the game, thanks to which, it cannot be recognized at first glance that it is a game dealing with some serious topics as sustainability and development and at the same time its rules and game mechanism are original.
A guide has been created for the game, which explains the basic terms used in the game and at the same time introduces the mentioned topics. If the game will be successful, we would like to create a methodology for schools and lectors of non-formal education. The current version of the game is very basic in terms of concepts and it aims to sparkle interest in people about our topics. But when we were creating the game, we already thought of various accompanying activities, so we believe that it will open many more interesting ways how to play and how to learn new things.
What are the first responses to the game?
So far, the game has been tested by people from the game environment and our close colleagues or our friends who have no experience with the topic of sustainability. We have received positive feedback regarding both the combinatorics, ie the interconnection of mechanisms in the game, as well as its content. The game was designed as a card game that people can play with friends, for example on a train ride or in the park. Its basic mechanics are not complicated at all, but it will be up to the individual players how the game will develop. The online version of the game is designed in a way that everyone can print it out at home, cut it out and start playing. I highly recommend reading the instructions on how to print it, because even at this stage, great emphasis was placed on development. I don't even want to count how many models were made. And if players print the game incorrectly, it can affect the experience of the game.
Do Czech people know the topics of sustainable development or international development cooperation?
There is some awareness, but it is rather superficial and there is still a need to work on it. According to the public opinion research we conducted during the project, people know, for example, icons of Sustainable Development Goals, but no longer understand what they mean in-depth and do not catch their interconnectedness. In the case of foreign development cooperation, the big problem is that people do not understand what development means. They imagine long-distance adoption or public collections for victims affected by war or natural disaster. It is rarely known that this is a very professional program or partnership through which the countries are being developed. This applies not only to the broad older public but also to high school and university students. In my opinion, therefore, there is a need for greater emphasis on global development education and its involvement in the framework of educational programs in schools.
Could your game help to raise awareness of these topics?
We hope so, and that is exactly why we created it. As I have already mentioned, the gamification method is a proven method, and people like it. If any educational game is well, casually, and interestingly set up, then it has demonstrably positive results. This card game is only a part of our activities. It will be complemented by a large outdoor game that is currently being produced and we believe that we will meet somewhere in the park, at a festival, or other cultural events in the summer and we will be able to play it together.