6 ways Caritas Czech Republic still supports people affected by the war in Ukraine
The war in Ukraine has been going on for more than half a year. During this time, millions of people have lost their homes, their ability to provide for their families, and their normal, decent life. From the first day of the war, Caritas Czech Republic has been helping Ukrainians who are suffering because of Russian aggression.
Initially, we focused on the most urgent needs: we dispatched humanitarian aid trucks with food, hygiene products, and clothes. Caritas network also supported people on the borders, while there were leaving the cities in areas of fighting. Right now, we are going further.  Thanks to the generous help of donors, companies, organisations, and people's personal donations, we can do more for the victims of war.
1. Modular houses for those who have lost everything
We are building modular houses in the Transcarpathian region. This area is located in the south-west of Ukraine and has only been bombed once by the Russian army. Thousands of people therefore consider this region the safest in Ukraine. That is why Ukrainians, who have been forced to leave their homes because of the military operations, have found here a safe place to live. However, not all of them have proper living conditions. Many people have to live in dormitories, gyms, or church premises. That is why, with the financial support of the Ministry of foreign affairs of the Czech Republic, we are constructing modular houses for people who have lost their homes because of the war.
"We want to support people who are devastated. Those who now are broken because of the war, those who have lost everything they had, and now don't know what to do with their lives. We want to give forcibly displaced people a reliable foundation under their feet, so that they can focus on recovery and rebuilding their lives once again,"  says Natalia Matskova, project manager.
Modular houses will be constructed according to high EU standards and will be located in Mukachevo, Svalyava, Tyachiv, and Serednie (a village near Uzhhorod). In total, Caritas Czech Republic will provide modular houses for 40 families. In addition, we are also reconstructing old buildings in Transcarpathia that are not finished or are in poor condition.
2. Cash assistance for the most vulnerable people
People fleeing the war often leave their homes with only a tiny baggage. Many of them have lost their jobs and the ability to provide for their families. We provide cash assistance to these people so that they can afford basic needs and take care of themselves and their loved ones.
One of the people who received cash assistance is Sophia, a mother of three children. "We will use this support for winter clothes for our kids. We are from Kherson, which is now under Russian occupation. All our stuff is left there, so there is no chance to take them. And we only live from my husband's salary, because I cannot work. Our oldest child has autism. He needs constant care," says Sophia.
We provide cash assistance to the most vulnerable people thanks to the financial support of the Ministry of Foreign Affairs of the Czech Republic, Trocaire, and Irish aid, and in cooperation with our partner organisation Caritas Ukraine.
3. Medical equipment for a health centre
As part of the emergency assistance, Caritas Czech Republic is purchasing medical equipment for the Caritas Drohobych medical centre and fully equipping 2 ambulances. These ambulances will be used to support the district's medical service during the wartime. In the future. the ambulances will serve for the  immediate transfer of patients, the provision of emergency assistance in field conditions and remote settlements of the district. Caritas Czech Republic will also provide the health centre with various necessary medications.
"The topic of medicine and its development in Ukraine at such a difficult time for the country is a priority for Caritas Czech Republic. The speed of response to critical situations and the ability to provide the highest quality assistance on the spot, in an ambulance, is extremely important for saving lives. We sincerely believe that this should save many lives," says Yaroslav Kyrylenko,  project manager.
4. Psychological support
Losing people you love, your native city, the job you are happy to do, and the streets you used to walk on every day is very painful. Ukrainians from the cities occupied and destroyed by the Russian army have lost everything, even their place in society. Besides basic needs, they also need psychological support. That is why Caritas Czech Republic is fulfilling this need as well. We have trained local psychologists in the provision of psychological care in crisis situations. Experts from the fire rescue service of the Czech Republic shared knowledge on how to work with people who have faced a sudden disaster, but also on how to focus on self-care and take care of one's own mental health and how to stay emotionally stable during the horrors of war.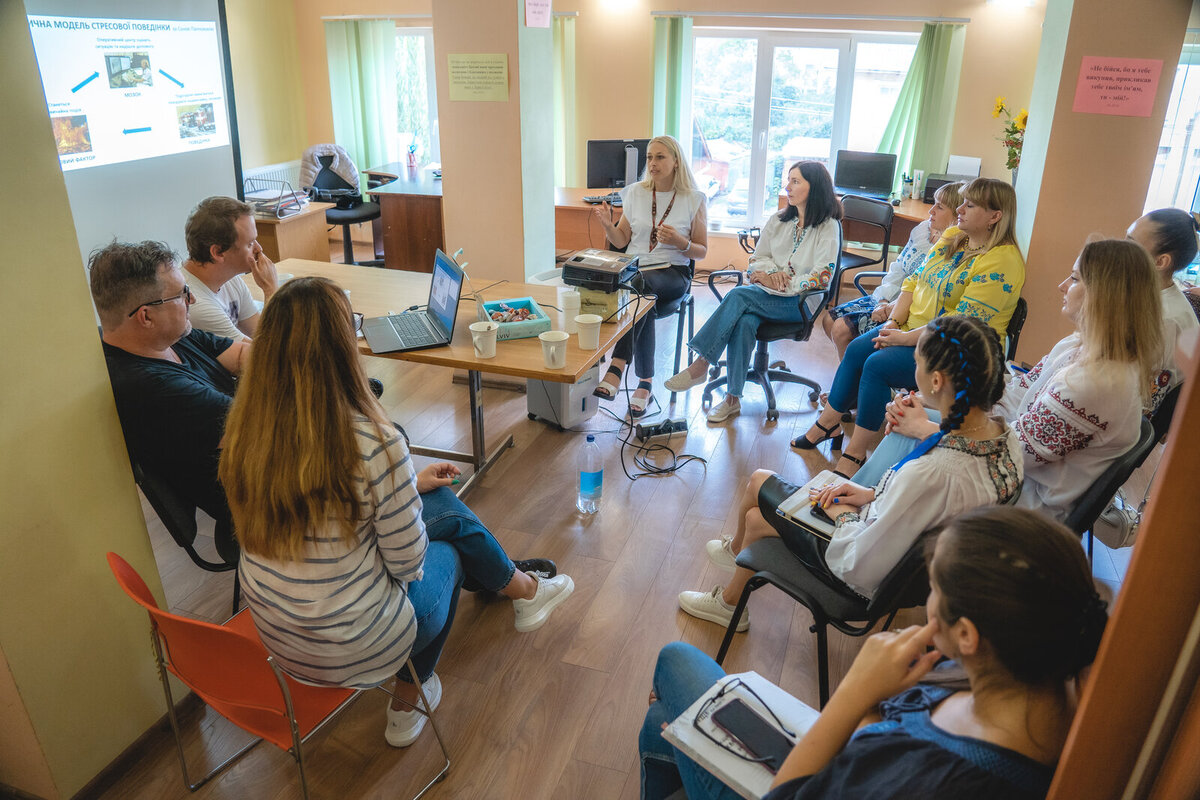 5. Support for refugees in Moldova
Hundreds of thousands of refugees from Ukraine have entered Moldova since the beginning of the war. The Europe's poorest country is still hosting more than 86,000 refugees. Caritas Czech Republic is equipping refugee centres, providing immediate financial support to refugees to cover their basic needs and increasing access to health and psychological services.
We are helping refugees in Moldova thanks to the financial support from Directorate-General for European Civil Protection and Humanitarian Aid Operations, and Caritas Luxembourg.
6. Help in the Czech Republic
Since the outbreak of the war, 419 000 refugees from Ukraine have found safe haven in the Czech Republic. Caritas network has been helping these people to provide the basic necessities of life. More than 146,000 people have received food aid, another 75,000 have received hygiene supplies, and 80,000 more have received household items and clothing. Caritas Czech Republic also helps the refugees with important administrative matters. To date, Caritas organisations across the country have helped more than 135,000 refugees from Ukraine with interpretation and integration. We help refugees to find accommodation and work, as well as to secure health care or a place at school or kindergarten. 
Caritas organisations also organise language courses or other integration activities for refugees to facilitate their integration into Czech society. We also run an assistance hotline in Ukrainian to help Ukrainians find their way around the Czech Republic. Young Caritas also assist refugees from Ukraine with their adaptation in the Czech Republic and works with volunteers who further assist especially Ukrainian women and children who have found safe haven in the Czech Republic.