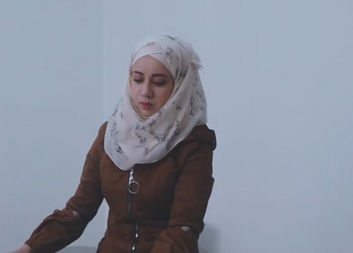 Asma from Syria fulfills her childhood dream and opens her own café
Although Asma Bbakir lives in a country that has been torn by civil war for over 11 years, she has not given up on her childhood dreams. Thanks to an educational course from Caritas Czech Republic, the student of the College of Economics and Management has opened her own business - a small café that serves mainly as a quiet place for students or intellectuals to learn.
A distraction in difficult times
Probably like any aspiring entrepreneur, Asma was very scared in the beginning and put off realising her business dream for a long time. "It was only through Caritas Czech Republic's course that I overcame my weaknesses and fears and jumped into business," she says. 
Her project is a combination of a library and a café - it serves as a place for those looking for a quiet environment where they can drink a coffee and read a book. In Syria, the concept of a cultural café is quite unconventional and similar places do not yet exist. 
That is why Asma was a little nervous on the opening day, but the first reactions of the visitors quickly dispelled her fears. "People were nice and expressed a lot of moral support for me. Thank God for that," concludes the young Syrian, offering her compatriots a pleasant distraction in difficult times. 
Caritas Czech Republic teaches young Syrians the basics of business
The civil war in Syria has been going on since 2011 and has claimed the lives of nearly half a million people. It has taken the homes of nearly thirteen million more. Caritas Czech Republic's training courses teach these people the basics of business and financial literacy, plus they receive a grant to start their own small businesses so they can take their lives back into their own hands. 
Interested in stories like this? Read more: