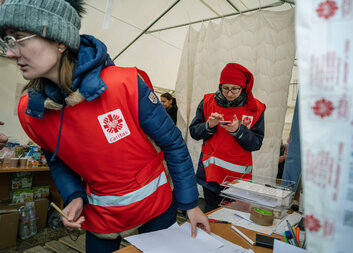 How is Caritas supporting refugees and internally displaced people in Ukraine?
Inside Ukraine, the number of internally displaced people is growing dramatically, following the number of refugees that crossed the borders. There are millions of people in need and local Caritas offices are providing direct emergency aid to them. We will continue to provide humanitarian aid to the people affected by the war, both refugees and internally displaced people. 
Helping inside the country
Caritas organisations from all over Europe are supporting people in Ukraine, and the local offices keep on working on the spot. They are providing local based assistance to support internally displaced persons and people in need, by distributing humanitarian goods such as water and food, including hot meals, and building shelters for refugees. Caritas is providing the most essential humanitarian support as well as psychological assistance, and providing safe space for mothers with children. Some of the local centres became short-term transitional centres for internally displaced persons in times of need, providing them with necessary assistance. Home care services continue as well.
Supported by Caritas 
Lyudmila and her son are among the 160 000 people who decided to remain in the country and fled to another, safer place after the Russian invasion. They first fled Donbas in 2014 and settled in Kharkiv before moving to Kyiv. For the second time in her life, Lyudmila and her son are internally displaced, fleeing the capital to Ternopil. They knew nothing there but were determined to stay in their country and help. Now, both she and her son are involved in humanitarian aid with Caritas: "We thank Caritas for accepting us," says Lyudmila. "We have no family or friends in the city; it is good that we are placed with Caritas. My son helps with humanitarian aid, and I am involved as well. I want peace for Ukraine and it will come. I'm sure. They tell me I have to go abroad, but I can't - this is my country and I want to be here," says Lyudmila.
A growing help
Caritas Ukraine keeps providing essential aid to those who are under heavy shelling in the East. Teams are relocating to improve cooperation and impact, while coordinating activities to be as efficient as possible.
Caritas Czech Republic also dispatched two trucks to Caritas Mariupol, a long-standing partner of the Ostrava-Opava Diocesan Caritas. Those two trucks are our first direct material aid, following our financial support. There are more trucks with material support being prepared to be dispatched. Caritas is also organizing logistic facilities to ensure a safe and quick delivery of the supplies in Ukraine and in the borders, where aid is also delivered.
We continue supporting refugees and make sure they receive decent help. We are therefore dispatching another truck this Friday, bringing power station and first aid kits.
Supporting refugees in the Czech Republic
We are supporting refugees after they arrive to the Czech Republic too. We are in close contact with the Ministry of the Interior, the Administration of Refugee Facilities, the Prague Integration Centre, and also with a number of non-profit organisations, volunteers and colleagues from regional Caritas organisations. Together we coordinate activities to help people who have fled the war in Ukraine to the Czech Republic.
Join us and donate to the Caritas for Ukraine appael.