Best of 2022 in Caritas Czech Republic
It sounds like a cliché, but 2022 really was a year like no other. At Caritas Czech Republic, we were fully immersed in helping people affected by the war in Ukraine. We immediately sent humanitarian aid to the country, and we also supported refugees from Ukraine in Moldova and in the Czech Republic. Our help did not stop there. We supported farmers in Zambia to withstand climate change, helped people in Iraq rebuild their livelihoods, and much more. Take a look at our biggest achievements of 2022.
1. We sent immediate humanitarian aid to Ukraine
Caritas Czech Republic sent trucks and a train with humanitarian aid to Ukraine immediately after the war began. We provided people in need with non-perishable food, hygiene supplies, nutrition for children, medical supplies, incubators and much needed generators. Since the first day of the war, the Caritas Network has been helping people at the borders who were fleeing to safety.
We have been helping people affected by the war in Ukraine also thanks to the Caritas for Ukraine fundraising appeal, to which donors in the Czech Republic have sent over CZK 190 million.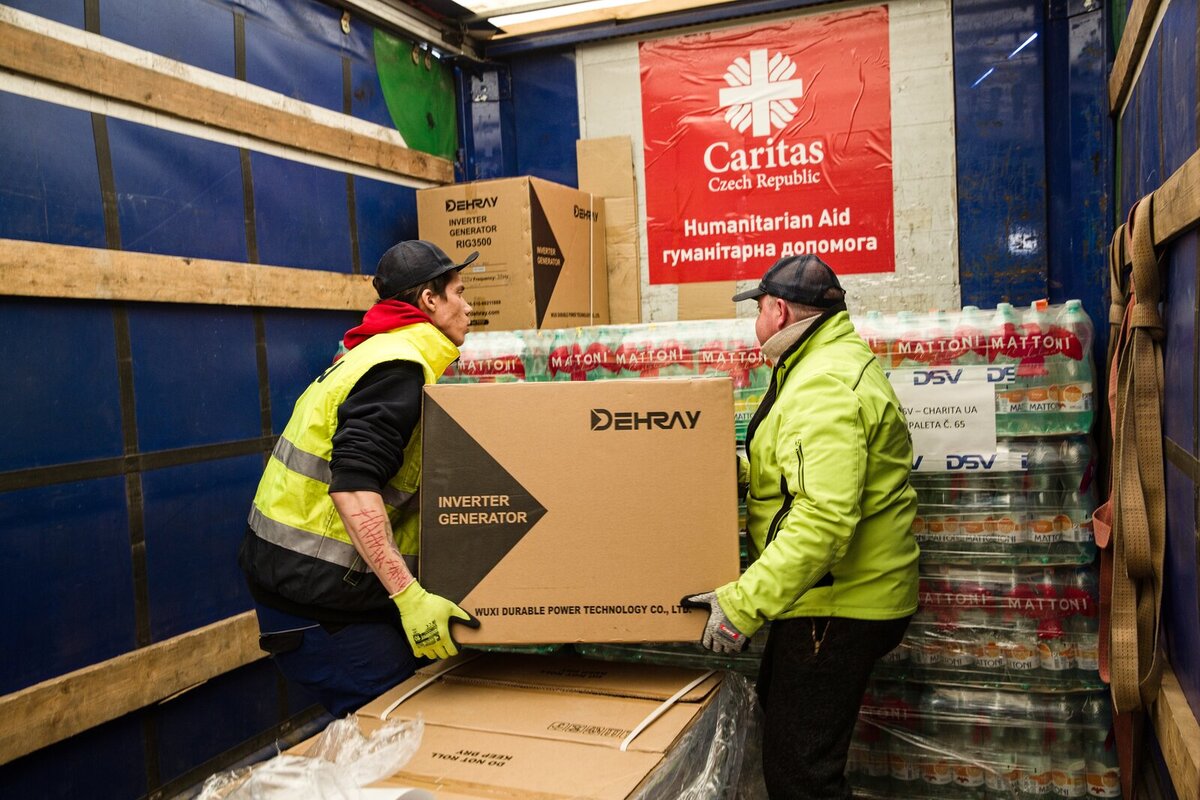 2. We supported refugees from Ukraine in Moldova
Hundreds of thousands of refugees headed to Moldova, a small country on the border with Ukraine, after the outbreak of war. For Europe's poorest country, this was a huge burden for which it did not have enough funding or capacity. Caritas Czech Republic has its own office in Moldova and has been actively involved in helping refugees since the beginning of the conflict in Ukraine. We have equipped refugee accommodation centres with beds, appliances and other basic needs, provided health and social services to people on the run, and distributed hygiene kits at border crossings.
We also launched a humanitarian project in Moldova, funded by the Directorate General for European Civil Protection and Humanitarian Aid Operations (DG ECHO), to help up to 210 000 refugees. We provided cash support and psychological assistance to help Ukrainian refugees return to normal life and overcome the traumas of war.
3. In Zambia, we were helping farmers withstand climate change
Climate change is impacting everyone in Zambia, but farmers in poor regions are most affected. Drought deprives them of their crops, leaving them unable to secure their livelihoods in the long term. Caritas Czech Republic is helping Zambian farmers withstand climate change. We introduced them to conservation farming methods based on minimum tillage. As a result, farmers are able to preserve land and water, while being able to increase their yields. We also showed farmers how to process and store food properly to avoid large losses. So far, we have trained more than 7,000 farmers in conservation farming.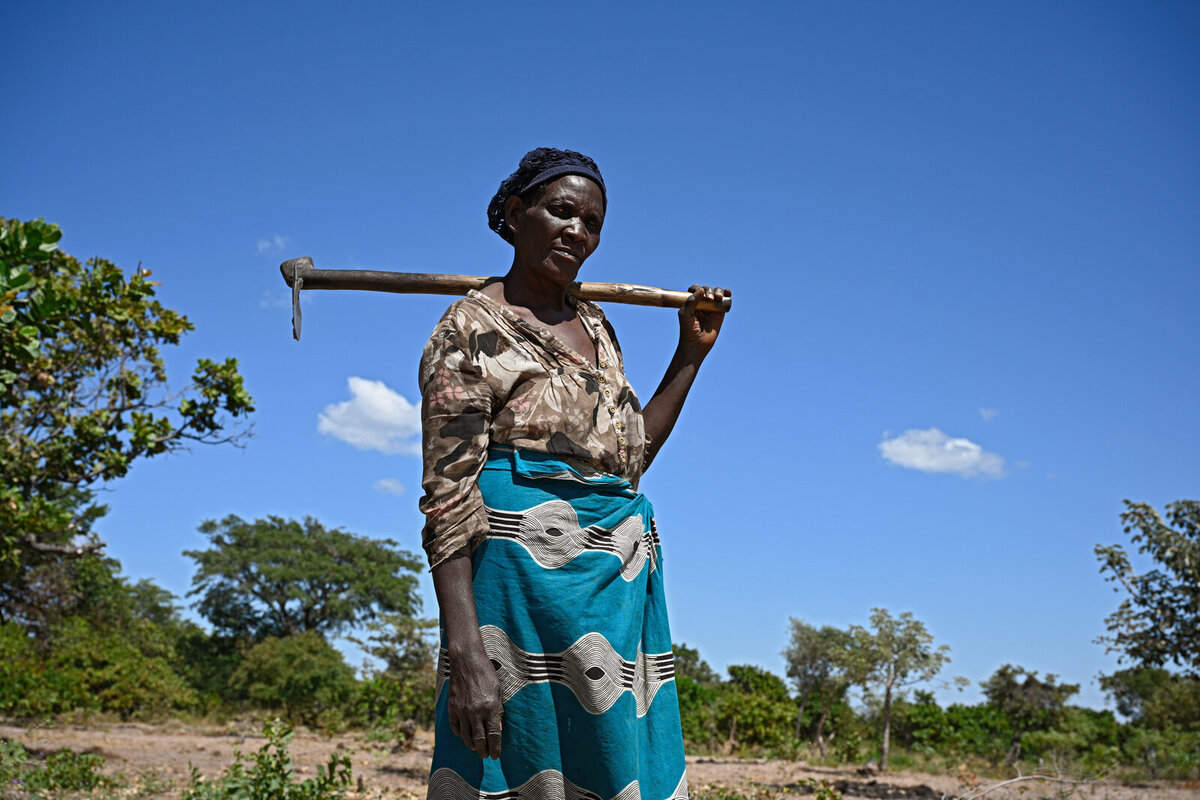 Towards the end of the year, we also launched a new project to combat climate change through innovations. Thanks to our initiative, the Zambian Ministry of Agriculture will train more than 40,000 farmers to learn how to better withstand climate change and gain access to important information about climate, weather index insurance and virtual markets.
4. In Ukraine, we helped provide shelter, cash and psychological support to people in need
We helped people affected by Russian aggression not only by sending humanitarian aid from the Czech Republic, but also directly in Ukraine. The Russian invasion has driven millions of people from their homes, many of whom have found safe haven in the west of the country. However, these regions did not have sufficient facilities for so many people, and many of them had to stay in gymnasiums and halls. Caritas Czech Republic therefore started to build modular houses in the west of the country for Ukrainians who had lost the roof over their heads. At the same time, we started reconstructing mass accommodation facilities to provide decent living conditions.
We provided financial support to people fleeing the war to acquire basic necessities. We also provided psychological assistance to Ukrainians in the west of the country. In cooperation with the Fire Rescue Service of the Czech Republic, we trained local psychologists in providing psychological care in crisis situations.
5. In Iraq, we helped locals rebuild their livelihoods after the war
Iraq is still coping with the consequences of the long-lasting armed conflict with the self-proclaimed Islamic State. Millions of Iraqis have been forced to flee their homes and often have no secure source of livelihood upon their return. Farmers have lost their fields and crops, and small entrepreneurs have found their businesses destroyed. It is these people that Caritas Czech Republic is helping to rebuild their businesses and farms. Last year, we helped thousands of local families find work. For example, we held business skills courses where Iraqis learned how to open their own businesses - such as tailoring shops.
We supported farmers to be able to work their fields again and employ other people from their communities.
6. In Georgia, we continued to transfer people with disabilities from large institutions to family-type community care
Every person deserves to live with dignity. But people with disabilities who live in large institutions often face violations of their rights. In Georgia, we are therefore helping to ensure that adults with disabilities are transferred from large institutions to family-type care homes. In total, we will provide community housing for 112 people in six residential centres. Last year we refurbished and handed over two centres to people with disabilities. We are working with the Georgian Ministry of Health on the project with financial support from the Czech Development Agency.
7. In Syria, we supported youth organisations
Syria entered its twelfth year of war last March. But Syrians are trying to carry on with their normal lives despite the conflict. Caritas Czech Republic is helping them to do so. Last year, we supported youth organisations in north-west Syria that work with young people. Thanks to their own projects, young Syrians will help rebuild their war-torn country and become actively involved in society
8. In Mongolia, we supported volunteers and young people with an idea
Young people make up a third of Mongolian society, but also the majority of the country's unemployed. Unemployment among Mongolian youth is rising, so Caritas Czech Republic is helping young people in Mongolia to be able to find work. We support them in their personal development and advise them on how to plan and build a career. Last year, we supported social entrepreneurs who presented their ideas to secure jobs for themselves and other young people in their communities.
We also promote volunteering among the young people in Mongolia. We have created the iVolunteer platform, which has become a bridge to connect volunteers and employers. Thanks to our efforts, we have been awarded the "Best organization of the year" by the Volunteer Center of Mongolia.
9. In the Czech Republic, we helped Ukrainian refugees with integration
More than 400,000 Ukrainian refugees have been granted temporary protection in the Czech Republic, while about 200,000-300,000 are actually living in the Czech Republic. Last year, our colleagues from Young Caritas helped mainly Ukrainian women and children to adapt to life in the Czech Republic. Trained volunteers helped, for example, with babysitting the children of refugees who registered at the Congress Centre in Prague after arriving in the Czech Republic. The Young Caritas team also assisted the refugees in dealing with official matters and helped them to communicate with schools, doctors, and to find their way around their new home. Young Caritas set up an adaptation group for Ukrainian pre-school children at the Caritas Czech Republic premises.
Local Caritas organisations also provide assistance to refugees in the Czech Republic, helping them to secure accommodation, food, hygiene products and other necessities. The Caritas Network helps refugees find accommodation and work and organises language courses or other integration activities. We also run an assistance hotline in Ukrainian language.
The year 2022 has certainly not been easy. We appreciate all our colleagues who made it possible for us to help as many people in need as possible last year. We also thank our supporters and donors who have supported the work of Caritas Czech Republic.